I featured the New York City Color Show set a couple of weeks ago and bought these Lace Jewels at the same time. I was eager to try them out. As I mentioned in my previous post I picked these up in my local 99p store and hadn't tried anything like these before so I wanted to give them a go. Maybelline now longer do their Color Show range but there's similar available.

This set was actual nail stickers whereas the New York City set were transfers. Similar to temporary tattoos. I thought as they were stickers they wouldn't hold very well as I'm so used to stickers falling off after a couple of hours. But boy was I wrong. I knew by how difficult they were to peel off of the plastic backing that they would stay on my nails well and five days later they're still perfect.
These come in various sizes and the idea is to chose the design that fits each nail the best, I did consider painting my nails white before hand and looking at my nails now I think this would have given them a better effect but I do like the look of the lace on the natural nail too. Anyway, I stuck each sticker onto my each nail the best I could leaving the remainder of the sticker coming off of the top of my nail (ready to file off), I did this one finger at a time to make it a little easier for myself.
I filed off the excess of each sticker with the file provided making sure I did each edge of the nail before the middle as I found that if you tried to file the middle of the nail before the edges it would bend and indent the sticker; luckily I found this out on my little nail rather than my thumb. File inwards rather than outwards too which ensures that the sticker covers the entire nail and you're not pulling it back off by filing the nail outwards.
Lastly, I coated the stickers with a clear polish which helped to seal the ends and help the design last longer. Do this step quickly though and with just one coat of the clear polish. I think I held the brush on my nail a little too long on one of them and it started to 'melt' the design.
Have you tried nail stickers before? What did you think?
Until next time,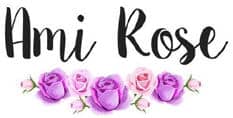 Be sure to follow me on social media to keep up to date with my latest posts!
You can find all of my social media links in the sidebar. I am @AmiRoseBlog on everything.