A couple of weeks ago I posted my Fresh Berry Scones recipe and as somebody that hates any sort of food waste I just had to make some blueberry muffins with the leftover blueberries (I bought far too many). I know I could have just eaten them but what's the fun in that? These Blueberry Muffins are gorgeous too, if I may say so myself. This is a classic recipe that my family has been using for years, Blueberry Muffins in 4 simple steps.

Blueberry Muffins Ingredients:
Makes 12 Muffins
240g plain flour
3 teaspoons salt
2 tablespoons baking powder
110g unsalted butter
2 large eggs
2 teaspoons vanilla extract
120ml milk
170g fresh blueberries
Demerara sugar for sprinkling
Method:
Preparation – 15 minutes | Baking – 30 minutes
1. Preheat the oven to 220°c. Whisk together the flour, baking powder and salt.
2. In a separate bowl, beat together the butter and sugar for 2-3 minutes until it resembles a thick cream, then whisk in the eggs one at a time and add the vanilla extract.
3. Add the flour mixture along with the milk a little at a time beating at a slow speed. Fold the blueberries into the mixture, don't beat them in as you want to keep them as whole as possible.
4. Divide the mixture evenly between 12 muffin cases then sprinkle the demerara sugar on top of each muffin. Bake for 30 minutes then leave to cool for 10 minutes (if you can resist them).
Enjoy…
Please send me your photos on Twitter (@AmiRoseBlog) if you have a go at making these Blueberry Muffins, I'd love to see them.
Until next time,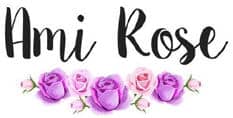 Be sure to follow me on social media to keep up to date with my latest posts!
You can find all of my social media links in the sidebar. I am @AmiRoseBlog on everything.