I've gone to Bristol Balloon Fiesta every year for as long as I can remember. It was a sort of 'tradition' in our family, something to look forward to. I actually feel guilty going without my parents and Grandma now and kind of sad about growing up too. Do we really have to? Although you know what they say, 'everyone has to grow older but it's a choice to grow up'. I like to think I stick to this rule as anyone that knows me knows I'm such a child at heart.

You'll get the idea of Bristol Balloon Fiesta from the photos. I'm not sure whether these events happen in different parts of the country or other countries. Anyone that owns a hot air balloon can launch from the festival and they try and beat the record of balloons launched each year. The current record is 110 (I think). They always have live music, shops/stalls, bars, catering, activities, fairground rides etc etc so you can see how perfect this event is for both children and adults. There's almost too much though which can cost parents a fortune. I can always remember saying 'can I… can I' to almost anything I passed.
This year wasn't great, many people moaned and moaned but what can you expect from a free event on one of the hottest days of the year. It was the first time in the 37 years that Bristol Balloon Fiesta has been running that they reached capacity and had to turn people away. Although they probably should have done that a while before they did as we were packed in like sardines with a 45 minute queue for a porta loo and the decision to go to McDonald's on the way home instead of queuing the 100+ people queues for a crepe. Sorry, I'll stop moaning myself now because life is what you make it. We had a lovely time, found a spot to plonk our bums and have a few ciders. Sun, cider and great views, what more can you ask for really?



We decided to go in the late afternoon so we could catch both the mass balloon launch and the night glow (my favourite part of the fiesta) and for anybody local – park at the Long Ashton Pub, it was only £5 for the day and no queues to get in or out, such a smug feeling when you know others queued for up to four hours to get out the car park (sorry). We had a slush puppy (like I said, child at heart) and wondered round the many shops and stalls, mainly handmade crafts and clothing but didn't buy anything. It was then time to grab a Thatchers and watch the mass launch, as you can see, Milo loved it too, he's such a cutie and got so much attention, especially when he fell asleep in Sam's arms.


Once all the balloons had launched it was almost 8pm and we only had an hour to wait until the night glow which seemed to fly by. This is probably the most popular aspect of the event and it's so beautiful to watch live. The balloons ignite their fire to the beat of the music but obviously because it's dark it all looks so pretty (I can't think of a good way to explain it). They always do classic songs too such as Mariah Carey or Somerset classics such as the Wurzels although they did add a bit of Taylor Swift in this year. We went on the Saturday which was the last day of the fiesta so they finished off with some lovely fireworks.
Have you visited the Bristol Balloon Fiesta before? Have you been to anything similar to this?
Until next time,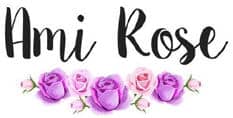 Be sure to follow me on social media to keep up to date with my latest posts!
You can find all of my social media links in the sidebar. I am @AmiRoseBlog on everything.