I've only just bought my first Speedy Quick Dry polish from BarryM, I've had to start buying my own BarryM polishes now, they used to be my treat from Sam but apparently over 100 is too many (oops). Their quick dry range came out earlier this year so they're lovely spring colours but I thought I could make their 'Need For Speed' a little festive with a glitter top coat.

I love the idea of a Speedy Quick Dry polish, especially from BarryM as it's my all time favourite brand for nail products. I'm one of few people who loves to paint their nails but sometimes I just don't have long enough to paint them and allow drying time. The Speedy Quick Dry range (available here) comes in 19 colours, I went for the purple shade 'Need For Speed' but I love Sprint Finish and Lap of Honour.
I prepared my nails as usual with No7's Nail and Cuticle Cream and a coat of Orly Tough Cookie to protect my nails. Then I waited for my base coat to dry before painting my first coat of BarryM Speedy Quick Dry, I was impressed with the coverage, I thought being a quick dry polish it would be really thin but it covered well. It dried in a couple of minutes. I then painted a second coat. I thought I'd give this a little longer to try and second coats usually take longer. But after just five minutes it was dry to the touch.
I used BarryM's Magenta Glitter as a top coat. This one offers full glitter coverage with three coats but more of a top coat with one coat which was the finish I was after. I was going to paint glitter on the feature nail only but I loved it so much I thought I'd do it on all of my nails. I think it makes the overall look quite festive too, and it's December now so that's aloud.
Have you tried any of BarryM's Speedy Quick Dry range? Which colour is your favourite?
Until next time,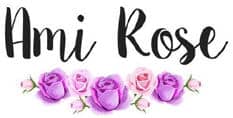 Be sure to follow me on social media to keep up to date with my latest posts!
You can find all of my social media links in the sidebar. I am @AmiRoseBlog on everything.