A couple of weeks ago Sam and I went to Swindon McArthurGlen Outlet for an afternoon of Christmas Shopping. Swindon McArthurGlen Outlet isn't too far from us. About 50 minutes. We thought we'd see if we could find some Christmas bargains. It was probably a bad idea to go on a Saturday. We had to queue to get into the car park for over 15 minutes and it was manic inside. I think I'm going to leave it until after Christmas to visit again. I found a couple of Christmas Gifts but I'm not going to include them in this post just in case it spoils the surprise for anyone but I did buy a few treats for myself.


We went a little crazy in the Yankee Store, I don't know whether anyone remembers my last Yankee Haulin' post but I can't contain myself in that shop. I picked up a few different waxes and votive that I hadn't tried before as they are 45p for waxes and 52p for votives, I don't know how I didn't buy the entire shop. We bought Lilac Petals, French Lavender, Vanilla Honey, Fruit Fusion, White Christmas, Vanilla Chai and Salted Caramel.

I bought some December earrings and some Christmas Day earrings from Claire's Accessories. I thought the snowflakes were Christmassy but I could get away with wearing them from November until February. Whereas the reindeer earrings are more for the run up until Christmas.

These two nail polishes weren't bought at the outlet but Sam bought me them on the same day so I thought I'd include them. As you all know, I have an addiction to BarryM nail polishes so I was pleased to add two more to my collection. I've not tried any of their Speedy Quick Dry range before so I'm going to try this one in 'Need For Speed' and feature it in a Manicure Monday to let you know what I thought. I like the idea of the 'Iron Mani'. This is a twice weekly treatment to strengthen and smooth nails and prevent breakages.

They've recently opened a Beauty Outlet Store at Swindon so I was eager to have a look around this one. I would have spent a lot longer in there if I wasn't with Sam so Mother if you're reading this, we need to visit again soon! I bought a Ciate Paint Pot in Island Hopping which has been featured in a recent Manicure Monday and Rimmel's Moisture Renew Lip Colour in 820 'Cherrylicious'. This is a your lips but better pinky/nude colour.


I went a bit crazy in Paperchase but, blog props! How do you like my photos of blog props on my blog props? I bought three wooden Christmas decorations, I thought these would be ideal for putting on the Christmas Tree or hanging on the walls as decorations. Then I picked up some mini decorative crackers, bell decorations and snowflake table scatter for blog backgrounds. I also bought these adorable paper cases, I can't wait to do some Christmas baking.



I went overboard in The Cosmetics Company Store and bought my first MAC Lipstick 'Sparks Of Romance' which is a red shimmer. Now I completely understand what the fuss is about and I'm already building my collection in my head. I then bought MAC Pro Longwear Compact Foundation in shade NC20 – I love the coverage of this one. My last MAC purchase what one of their Lipglasses in Morange, this is a gorgeous Coral shade, perfect for summer.  I then bought an Estee Lauder Stay On Shadow Paint in Sinister. This would be great for a smokey eye and I thought I could use it for eyeliner too. It was reduced from £20 to £7, bargain. Lastly I bought Smashbox Camera Ready BB Creme to try as I've heard so many good things about it.
Have you visited the Swindon McArthurGlen Outlet? What have you treated yourself to recently?
Until next time,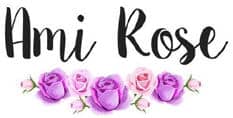 Be sure to follow me on social media to keep up to date with my latest posts!
You can find all of my social media links in the sidebar. I am @AmiRoseBlog on everything.