Avon isn't a brand that I see featured often within the "Blogosphere". But since rediscovering it recently I really can't understand why more people don't swear by it. I've got a new Avon Representative in my area and have really got back into Avon as much so that I bought 7 nail polishes, a foaming cleanser, powder foundation and CC pearls from the latest catalogue. I've particularly been fond of the new Avon Magic Effects Nail Polishes and as I had a few different shades I thought I'd show you how gorgeous they are. And why I'm loving them so much.
Firstly the Avon Magic Effects Mineral Crush, £6 each. These come in eight colours, Ruby, Agate, Turquoise, Diamond, Pearl, Topaz, Rose Quartz and Amethyst. I have three of these, Turquoise, Agate and Amethyst. Although I'm loving Pearl and especially Ruby so I don't think it'll be long until I have these ones to add to my collection. These only require two coats and give this really effective full coverage. Not like some other glitter polishes there require 3, 4 even 5 coats.

Turquoise Mineral Crush – my favourite so far

Pearl Mineral Crush
Next is the Avon Magic Effects Fringe, £6 each. This comes in 4 colours – Frayed Edges, Tasselled Trim, Jacquered Metal and Fringe Effect. I only have Jacquered Metal from this range. These are very similar to the BarryM Confetti range so if you were a fan of these you'll love Avon's Fringe Range. This can be used alone (but you will need a lot of coats to give a full coverage) or over another colour as a top coat which is my preferred way. It gives such a nice effect to an otherwise "plain" nail. I love the Tasselled Trim from this range so this may be a future purchase.
They also have Matte colours in the Avon Magic Effects range, White, Inky Blue, Black, Violleta (which I've since ordered) so I'll do a swatch for you soon. I'm wearing their Turquoise Mineral Crush whilst writing this post and have been for the last 6 days. I'm really pleased with how it's lasted and how many compliments I've had on it already.
Have you tried any polishes from the Avon Magic Effects range? What did you think? What are your favourite Avon products?
Until next time,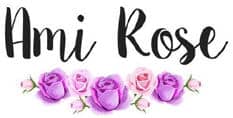 Be sure to follow me on social media to keep up to date with my latest posts!
You can find all of my social media links in the sidebar. I am @AmiRoseBlog on everything.