When my friend suggested we go to the new Gloucester Services for lunch I thought she was crazy. A motorway services for lunch, really? I couldn't have been more wrong. Gloucester Services is about 20 minutes from me. I've passed a few times since it opened last year but never thought of, or needed to stop since it was so close to home. When my friend Jess mentioned it had been on Countryfile I just had to see what the fuss was about. And accepted her invitation for lunch.
The second I entered the door I realised why it has been so popular with the press since it opened. I forgot where I was for a second. We decided to have a look round the shop before getting some lunch. We spent nearly an hour looking around and between us I think we wanted to buy the entire shop. I particularly loved the fact that all of their produce had come from within 30 miles from the service station.


There's nothing better than freshly baked bread, especially crusty loafs like these. These are from Hobbs House Bakery and Bertinet.

I love Seed and Bean Chocolate, just look at this selection. This is organic, fairtrade chocolate and comes in 15 flavours. My favourites are Chilli and Lime and Lemon and Cardamom. I really want to try the Tangerine flavour too.


I once made myself sick at a cider farm in France by drinking a 2 litre bottle of Apple Juice, oops. But I cannot get enough of it. I've been known to drive to Cheddar (about an hour from me) to buy a particular Fresh Apple Juice. There's quite a few different brands available here, all of which I haven't tried before so I'm going to stop in and buy some next time I'm passing.



I can't go anywhere without thinking of Milo, I wanted to buy him everything from this selection. The leads and collars by Oscar and Hooch look so comfortable. I may have to pick one of these up once Milo's current lead has worn out. How cute are these tweed dogs too.

I bought a selection of Fudge for desert, my favourites were Raspberry and Vanilla. These are handmade by the Artisan Baker in Stroud which is just 20 minutes from me. I think I'm going to pay a visit to the Farmer's Market next Saturday and buy myself some more.

We made our way to the canteen to get some lunch, there was a lot to chose from so it was hard to decide. Jess went for a Chicken and Mushroom Pie and I had a Chickpea and Vegetable Burrito which I thoroughly enjoyed.


This is where we ate our lunch. Seriously, by looking at this, can you tell it's a motorway services? I surely couldn't. I just wish there was a way to get here without having to go all the way up and back down the motorway.


Have you stopped at Gloucester Services on your travels yet? What did you think?
Until next time,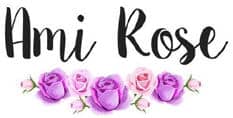 Be sure to follow me on social media to keep up to date with my latest posts!
You can find all of my social media links in the sidebar. I am @AmiRoseBlog on everything.