I haven't done a skincare post for a while so I thought I'd share some of my Current Skincare Favourites with you. I'd love to hear what your skincare favourites are too?


Garnier
2 in 1 Eye Make-up Remover. As I've mentioned previously I've stopped, well limited, my use of make-up wipes and moved to liquid based products and Micellar Waters. They're so much kinder to your skin. I had completely banned make-up wipes from my skincare routine until I discovered Simple Exfoliating Facial Wipes. These have changed my view on make-up wipes. Garnier 2 in 1 is my absolute favourite and I have purchased this again and again. You don't need to scrub to remove make-up, just put some on a cotton pad, hold it on your eye for about 20 seconds then wipe and it removes every trace of my eye make-up. It leaves my skin feeling great too.
Fushi Organic Tamanu Oil* – I mentioned a few weeks ago on Twitter that I'd love suggestions for products that reduce the appearance of stretch marks. I was kindly sent this along with an Organic Neem Oil from Fushi. My skin seems to be prone to stretch marks as I can't specifically think of anything that would have caused them. I've been using this daily on the tops of my thighs for over two weeks now and have noticed such a difference already. Luckily my stretch marks haven't reached the purple coloured stage so I still have time to reduce the appearance drastically. I'm not sure what my skin loves so much about this product but I can't want to continue using it and see the changes it makes over a longer period of time.
Body Shop
Vitamin E Overnight Serum. I really wanted to do a full review on this one and I still may. This has been a "go-to" product of mine for a while now. I chose this as my birthday gift using my Love Your Body Card which has sadly now expired. I think this is around £15 usually but it is totally worth it and I have been recommending it to everyone. For some reason I started having really bad breakouts and after trying everything to control it. I resulted to this after a recommendation on Twitter. This serum is to "replenish and recharge moisture". And works it's wonders throughout the night.
Insta Natural Night Cream*. I was sent this along with the Rose Water after searching for a new night cream for what seemed like months (it probably was). This "hydrates and plumps skin" and contains Niacinamide, Vitamin C, Matrixl 300 and Rosehip Oil. I've noticed such a difference so my skin after introducing this into my skincare routine. Mainly reducing the blemishes on my cheeks. I've been using this in the mornings sometimes too underneath my make-up as it's not oily at all which is a lovely factor for a moisturiser.
Insta Natural Moroccan Rose Water. The thing I love most about this product is the smell. Oh my it is amazing. I really want to find a candle that smells this good. This is a natural oil made from "Rosa Damascena Petals" which naturally balances this skins pH levels. I've been using this as a toner morning and evening for almost two weeks now and this has contributed largely to reducing the blemishes and redness on my cheeks. This product is a 3 in 1 as you can also use it as a hair mask and it can be
added to your bath
.

Body Shop Strawberry Body Polish. Strawberry is my all time favourite scent from the Body Shop. I bought the entire strawberry range last year and I'm slowly making my way through it. I've been using this exfoliating scrub before showering 3 times a week and have been dry body brushing for the other 4.
Soap and Glory The Righteous Butter.
My Grandma
bought me this for Christmas last year after telling her how much I loved Soap and Glory products. This is for very dry skin which mine has been recently and I'm so sad to have almost used this up. A little goes such a long way but I've been using it daily over the last few weeks. This contains shea butter and aloe vera, smells lovely and soaks into your skin like a dream. I'm going to treat myself to some new Soap and Glory products soon. What products would you recommend?

Body Shop Body Brush. I tweeted yesterday that my skin has been loving me for all the dry body brushing I'm giving it. Almost every spot on my arms, legs and back have disappeared and my skin constantly feels smooth. This is thanks to the Righteous Butter mentioned above too. I started dry brushing once a week but I've since increased this to four times now my skin is used to it. It can feel funny at first (Sam hates the feeling) but you get used to it after a few times.
Have you tried any of these products? What did you think? What are your Skincare Favourites?
Until next time,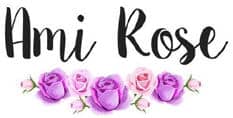 Be sure to follow me on social media to keep up to date with my latest posts!
You can find all of my social media links in the sidebar. I am @AmiRoseBlog on everything.