As many of my readers, friends and family know, I hate food waste. I will be the person that finishes your left over chips when we go out for dinner or asks to take the remaining pizza home (who doesn't right) and I'm the same when it comes to baking. I used an egg yolk for my Lemon Kisses recipe and couldn't bring myself to throw the egg white away. So had a quick Google of things I could use this for and came up with Lemon Meringue Cupcakes as I had all of the ingredients including the lemon curd that I'd just used for the filling on my Lemon Kisses – perfect. I halved the mixture to make six cupcakes so I only needed to use one egg white (otherwise we'd be going in circles).

 Lemon Meringue Cupcakes Ingredients:
Makes 12 Cupcakes 
200g caster sugar
100g softened butter
2 eggs
2 egg whites
100g self raising flour
2 lemons
4 tbsp lemon curd
Method:
Preparation – 15 minutes | Baking -25 minutes
1. Heat oven to 180c (160c fan) and line a cake tin with paper cake cases.
2. Beat half of the sugar and all of the butter until pale then add the two whole eggs one by one. Stir in the zest of the two lemons and add a squeeze of lemon juice (around 2 tbsp). Then fold in the flour keeping as much air in the mixture as possible.
3. Put two heaped teaspoons of mixture into each cupcake case, make a little dip in the centre and place a little lemon curd in each dip. This will create a lemony surprise in the centre of the cakes. Bake for 10 minutes.
4. Whilst the cakes are baking you can make the meringue – place the egg whites into a clean bowl and whisk until stiff peaks form (this will take five minutes or so) then add the remaining sugar a tablespoon at a time and keep whisking for a further few minutes.
5. Remove the cakes from the oven and spoon or pipe the meringue on top. Return the cakes to the oven and bake for a further 10-15 minutes until the meringue has browned.
Enjoy…
I'd love to see your photos on Twitter (@AmiRoseBlog) if you have a go at making these yourself.
Until next time,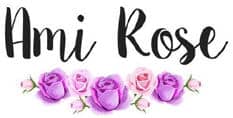 Be sure to follow me on social media to keep up to date with my latest posts!
You can find all of my social media links in the sidebar. I am @AmiRoseBlog on everything.