Lee Stafford Haircare has been one of my favourites for years and years, and years. The first product, or products I discovered were from the Hair Growth Range "For Hair That Never Grows Past A Certain Length". I started using the Hair Growth Shampoo, Conditioner and Treatment once every couple of months to give my hair a treat. I always noticed such a difference after I'd used it and it was a product range I kept coming back to. Other than noticing my hair really did grow considerably faster than it would have usually – it also worked as a nourishing and conditioning treatment. I've spoken in depth about this range previously.

I mentioned in my initial review of the Hair Growth Range that I was yet to try the "Hair Growth Scalp Serum". I just never felt like I needed it as part of my routine. And I usually bought the products when they were on 3 for 2 or 3 for £15 offers so I focused on the "main" three – the Shampoo, Conditioner and Treatment. Recently I thought I'd try the Scalp Serum and boy have I been missing out. I absolutely love this product. I've been using it twice a week – immediately after washing my hair. Adding one or two full pipettes to my scalp and massaging it into my roots. I then make sure I comb through my hair to disperse any leftover product throughout my hair. This has been working wonders for me. My hair is so much healthier, shiny and volumized.
I have been struggling with hair growth recently, especially after having Arthur. I had such bad postpartum hair loss, and even now after nearly 2 years it still seems to be falling out! Luckily these products have made a difference for me but for individuals that struggle with hair growth and have exhausted all their options, there are other solutions available. Expert hair loss surgeons are, now, widely available and are delivering better results than ever. Take the team at Enhance Hair Restoration, for example. Operating out of their state of the art clinic in Birmingham, they are fully equipped to provide restorative hair transplant surgery. There is so much stigma around hair transplantation, especially for women, but it's so normal for people to want to restore confidence lost by hair loss and more people should be talking about it.
Another product I've been loving recently is the "Original Dry Shampoo". I don't think there's much to say about a Dry Shampoo but this has become my go-to over the last couple of months. I washed my hair quite often after going blonde as I was trying to tone it with a blue shampoo. As much as this helped the overall colour of my hair, it also meant my hair expected a wash more than the twice a week it was used to. I opted for dry shampoo on the "in-between days" when I could just about get by without another wash.
The third product I wanted to mention is the "Hair Growth Treatment". You can see how much I love this range. I can never stop babbling on about it. I've started using this as a once weekly treatment since bleaching my hair to keep it in optimum condition. This little pot seems to last forever. You really don't need to use much with each treatment. The treatment helps to reduce hair loss, improves follicle health, soothes the scalp and improves strength, volume and feel of the hair. I have tried so many different treatments over the years and I keep coming back to this one.
I just wanted to quickly sneak a fourth product in here too. The "Argan Oil Anti Frizz Serum Spray". What a little miracle product this is. I've only discovered it in the last week, so I'd already planned this post and taken the photographs. But I just couldn't leave it out. I have a really nice natural wave to my hair but it's so thick and frizzy. I've been using the Serum Spray to tone down the frizz and it really has been a miracle product for me and has been taming my hair for the entire day. Amazing.
Have you tried any Lee Stafford Haircare products? Do you have any recommendations?
Until next time,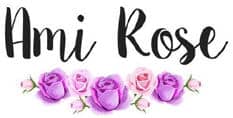 Be sure to follow me on social media to keep up to date with my latest posts!
You can find all of my social media links in the sidebar. I am @AmiRoseBlog on everything.