Last week was the annual street BBQ on the communal green outside of our house. I was really looking forward to it as was a lovely chance to get to meet the neighbours, many of which we were yet to speak to. It's such a nice idea to bring the community together. There was a bouncy castle, games such as football and rounders, even apple bobbing and an "eat a doughnut without licking your lips" challenge. This year was our first time attending as we've recently moved to the area so I wanted to make a good first impression and share my love of baking. I stuck with an easy muffin recipe then added mixture of fillings as I wasn't sure what everyone would enjoy. The fillings I chose were blueberry, cherry, white chocolate and milk chocolate and hazelnut.

Muffin Ingredients:
Makes 12
270g plain flour
1 tablespoon baking powder
80g caster sugar
2 eggs
100g butter (melted)
220ml milk
2.5ml vanilla extract
Your choice of filling (around 250g)
Method:
Preparation – 10 minutes | Baking – 25 minutes
1. Line a muffin tin with muffin cases and preheat oven to 200°c/180°c fan.
2. Mix the flour, sugar and baking powder together in a bowl.
3. In a separate bowl mix together the eggs, melted butter, vanilla extract and milk, then add to the dry ingredients and combine. Lightly stir in the filling of your choice.
4. Spoon into your prepared muffin cases, filling almost to the top. Bake for 25-30 minutes until risen, golden and firm to the touch.
Enjoy…
Will you be having a go at this easy muffin recipe? What is your favourite filling?
Until next time,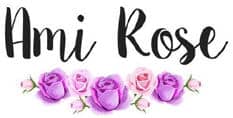 Be sure to follow me on social media to keep up to date with my latest posts!
You can find all of my social media links in the sidebar. I am @AmiRoseBlog on everything.