Scones, scones, scones, I've been addicted recently. I used to only have them as a "holiday treat" when I was travelling around Devon and Cornwall. But then I realised they were sold in supermarkets, and the addiction began. Of course I knew that already, but I'd just never thought of having Cream Tea anywhere but the cute cafés along the coast. It was a Sunday morning and I told Sam I was going to get my weekly [daily] scone from the Lidl Bakery when he suggested making my own. Well I'd never thought of that either.
I had a scroll through my recipe books for a basic scone recipe and came across Mary Berry's Devonshire Scones in her Simple Cakes recipe book. I love Mary Berry's recipes as they're always so simple, her Victoria Sponge recipe is one of my go-tos. As well as her Lemon Drizzle which is absolutely divine. I stuck with this recipe but added some Glacé Cherries as I had some left over from making my Muffins the other week. You can also add raisins, or other dried fruits.

Cherry Scones Ingredients:
Makes around 20
450g self-raising flour
2 tsp baking powder
75g butter
50g caster sugar
2 eggs
225ml milk
150g glacé cherries
Method:
1. Grease two baking trays and preheat oven to 220°c (200°c fan). Put the flour and baking powder into a large bowl. Add the butter and rub it in with your fingertips until it resembles fine breadcrumbs. Stir in the sugar.
2. Beat the eggs in a measuring jug then add the milk to make it up to 300ml. Put a little of this aside for glazing then gradually add the rest to the dry ingredients until you have a soft dough.
3. Place the dough on a lightly floured surface and roll out to a thickness of 1.5-2cm. Using a 5cm cutter, cut into around 20 circles.
4. Arrange the scones onto your prepared baking trays and brush the tops with the milk and egg mixture you put aside. Bake for 10-15 minutes until well risen and golden.
Enjoy…
Will you be having a go at making these simple Cherry Scones? What have you baked recently?
Until next time,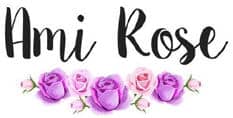 Be sure to follow me on social media to keep up to date with my latest posts!
You can find all of my social media links in the sidebar. I am @AmiRoseBlog on everything.