I'm sure it comes as no surprise when I say "I love to bake". But I really really do. There's just something so soothing and relaxing about it. It's my "chill out time". Last Sunday was no different, I was desperate to bake but also feeling pretty "yuck" from a takeaway the night before so wanted to make something a little healthier. I had the idea of making some Healthy Oat Bars, meaning I wouldn't feel guilty for a Sunday morning snack. AND I could make enough for guilt free snacks for the rest of the week. These Healthy Oat Bars will keep for up to a week in the fridge; I find they keep better individually wrapped in cling film.
I chose to put Pistachios, Coconut and Goji Berries in mine but you can put any dried fruit of your choice. I've also made them with dried apricots but haven't tried them with any other ingredients YET.

Ingredients: 
Makes 8-10 bars
120g rolled oats
50g coconut oil
2 tbsp peanut butter
2 tbsp agave necar
40g desiccated coconut
2tbsp goji berries
2 tbsp pistachios
Method: 
Preparation – 35 minutes | Cooling – 1-2 hours
1. Preheat the oven to 200°c (180°c fan) and line a baking tray with baking paper. Spread the rolled oats thinly over the tray and bake for 20-25 minutes until the oats are golden. This makes your bars a little more crispy.
2. Melt the butter and coconut oil in a saucepan then add the agave nectar and peanut butter and stir until combined. Then stir in the baked oats, pistachios, desiccated coconut and goji berries and stir until well coated.
3. Pour the mixture baking onto your baking sheet and press down firmly using the back of a wooden spoon. Place in the fridge to set for 1-2 hours then cut into bars.
Enjoy…
I'd love to hear what you think if you have a go at making these Healthy Oat Bars.
Until next time,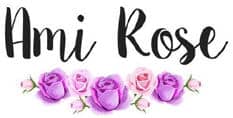 Be sure to follow me on social media to keep up to date with my latest posts!
You can find all of my social media links in the sidebar. I am @AmiRoseBlog on everything.