Just Between Us make gorgeous jewellery, from earrings to necklaces to bracelets, for men and women, all with a unique personal touch. I love the idea that each and every piece of jewellery that Just Between Us make can be personalised in many different ways; whether it be children's names on a necklaces, individual birthstones on bracelets or photos and phrases on a locket. Each piece comes with FREE engraving.

Just Between Us jewellery starts at just £40 for a pair of personalised rose bud earrings (love these) and goes up to £95 for a personalised Crystal Locket Pendant so there really is something for everyone. You can pay in monthly instalments too making it much easier on the pocket. I think they'd all make such lovely gifts.
The piece of jewellery that stood out to me the most was this absolutely gorgeous Sterling Silver name necklace*, personalised in more than one way with the name of your choice and your personal birthstone. All for what I feel is a fantastic cost of £45 or 4 interest free payments of £11.25. I've been wearing this absolutely everywhere. I also love the Lucky Elephant Crystal Charm Locket Bracelet, isn't it beautiful? I have another bracelet I'll be featuring soon too.

I've got a fantastic giveaway for you as I have this gorgeous Crystal Belt Buckle Bracelet worth £94 to give to one of my lucky readers.  This is such a lovely piece of jewellery, coated with more than 100 dazzling Swarovski crystals. I can imaging it would make a wonderful gift for someone, or yourself of course! Simply follow the instructions below to enter. The first two options are mandatory, the rest will get you bonus entries. GOOD LUCK. (UK only).
Have you bought anything from Just Between Us? Good luck in the giveaway!
Until next time,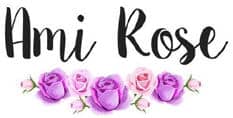 Be sure to follow me on social media to keep up to date with my latest posts!
You can find all of my social media links in the sidebar. I am @AmiRoseBlog on everything.