I love glitter nail polish so so much, I can't get enough of it. Although it's an absolute pain to remove (if anyone has found a method that work's wonders, please let me know). Today's Manicure Monday was going to be a gorgeous Mushroom Brown colour with a slight sparkle top coat, until I found that the top coat I was planning on using was completely full coverage glitter. I'll save the Mushroom for another Manicure Monday as you can't see it whatsoever here.


The glitter I've used is an older one from BarryM's Multi Glitter Range, I find that BarryM are fantastic at creating full coverage glitters. I've mentioned their Glitterati range many times which is also full of full coverage glitters and is one of my all time favourite BarryM collections. They've recently released the Molten Metals range and 'Silver Lining' would give a very similar finish to this one. I love 'Copper Mine' too.
I started this look with a couple of coats of 'Mushroom' nail polish from BarryM's Classic Range. When planning on using a full coverage glitter it's always best to still go in with a base colour first, rather than going straight on with the glitter. This will give a tiny bit of extra protection when trying to scrub to remove the glitter and will mean any bits that are slightly missed by the glitter will be covered by the colour.
Believe it or not, I only used one coat of BarryM's Silver Multi Glitter for this week's Manicure Monday. I left it to dry for around 10 minutes then finished off with a coat of BarryM's Iron Mani that I've previously mentioned here. This post isn't sponsored by BarryM I promise, (although I wish it was)! I just love their products.
What do you think of this finished nail look? Have you tried any of BarryM's glitters?
Until next time,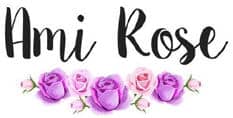 Be sure to follow me on social media to keep up to date with my latest posts!
You can find all of my social media links in the sidebar. I am @AmiRoseBlog on everything.