I mentioned in my April 2016 Wishlist that I'm going to make these posts a regular occurrence and I already forgot May's. Useless aren't I. I hope you don't mind another random Wishlist for June, I definitely couldn't stick to one topic. I'm writing this June Wishlist the day before I plan to go on a shopping spree with Mother so I'm hoping to tick lots of it off tomorrow. I always save the photo to my phone so I've always got it on me. I'd love to hear what's on your Wishlist this month, comment below or tweet me at @AmiRoseBlog.
Many of these products can be found on the Oldrids and Downtown site, which I've recently discovered and fallen in love with. You can find anything from Beauty, to Fashion, to Furniture, to Fitness Equipment, the list goes on. It's so nice to be able to find everything in one place and have it delivered right to your doorstep.

1. NYX Liquid Lingerie Lipstick (Image Source) – I've been wanting to try these for a while. The colours look lovely, especially Exotic, I'm so glad NYX is now sold at Boots.
2. Nike Foam Roller (Image Source) – Since I've been trying to exercise more, I've been having trouble with my muscles, mainly my back and shoulders. I've been recommended a foam roller and this brightly coloured one jumped out at me. It'll hopefully make me feel better and look pretty.
3. Cath Kidston Rose Mug (Image Source) – What's a Wishlist without a mug? Anyone that knows me knows I'm addicted to cushions, mugs and candles. I can't stop buying them. I was browsing the Oldrids site and came across this gorgeous rose mug.
4. Happy Jackson Snack Boxes (Image Source) – Happy Jackson do some wonderful products, I love all the quotes on their products. I always add something to my collection when I visit (my favourite) Gloucester Services. I spotted these snack boxes and thought they'd be ideal for healthy snacks such as carrot and hummus.
5. BarryM Molten Metals (Image Source) – I don't even have to tell you why I want this one. Obviously I need to add another nail polish to my 120+ BarryM Collection…
6. Fiorelli Nikita Cognac Acrossbody Bag (Image Source) – I've been looking for a smaller handbag for a while and I've fallen in love with this one. It's an ideal size and a lovely tan colour. I'm so picky with handbags and this is the exact thing I've been looking for. I've still got birthday money left so I may treat myself this month.
7. New Look Black Embroidered Shorts (Image Source) – I really need to update my summer wardrobe, hence the shopping spree with Mother tomorrow. I haven't bought new clothes in a long long time. I was having a quick look on the New Look site to get inspiration and found these black shorts, they look lightweight and idea for summer.
8. SensatioNail Polish To Gel (Image Source) – This has been on my Wishlist since it was released. It's a nail polish kit that transforms any nail polish into a gel, how amazing does that sound? I've got a over 200 nail polishes but tend to stick to my SensatioNail polishes as these last much longer, it will be nice to start using others from my collection again.
Have you tried any of these products? What's on your Wishlist this month?
Until next time,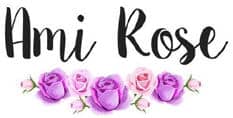 Be sure to follow me on social media to keep up to date with my latest posts!
You can find all of my social media links in the sidebar. I am @AmiRoseBlog on everything.
*in collaboration with Oldrids.