I'm sure I've featured this combination on my blog before, or one very similar but I just love it SO SO much. We've been having some really crappy weather recently so I was trying to decide between a brown or grey to match the weather or to go extra bright. Obviously I went for the extra bright look, I feel it looks fab with the Jewellery Box jewellery too.


Both polishes I've used are BarryM, lets be honest, do I ever use anything different? The base colour is Guava from their Gelly Collection and the top coat is Mermaid from the Aquarium Collection (which I'm currently trying to collect before they're discontinued). I've mentioned before, but BarryM's Aquarium Collection is one of my favourites. It contains two beautiful top coats, Mermaid and Treasure Chest, then five two tone polishes. I'm so desperate for Persian.
As much as I want to go into detail about the nail polishes used, I do feel you've heard it all a million times before. And I'm so desperate to tell you about this absolutely blooming gorgeous jewellery from Jewellery Box*. They kindly chose this selection for me and I don't think they could have possibly chosen a better selection. They're all so 'me' (this isn't everything either). The rings and bracelets are all so dainty which are perfect for my tiny hands and wrists.
The blue one is my usual Pandora one that I wear in almost all of my Manicure Monday posts. Then other three rings and both bracelets are all from Jewellery Box. I was going to take my Pandora one off for these photos but then I had an indent and tan line on my finger and it looked awful so I decided to leave it on.
Jewellery Box jewellery comes in silver, gold white gold and rose gold and they do almost any jewellery that you can think of. From Earrings to Bracelets to Toe Rings and there are thousands of products to chose from. Many are under £10, or even under £5. The rings I'm wearing here are the 2mm Twisted Pattern Stacking Ring. The Infinity Loop 1mm Stacking Ring. And the 2mm Simple Wishbone Stacking Ring. The bracelets that I'm wearing are Fine Light 18ct Rose Gold Dipped 7 Inch Arrow and the Open Heart Rolo Chain Bracelet. I can't wait to add to my collection.
Have you bought anything from Jewellery Box? I'd love to see your photos on Twitter (@AmiRoseBlog) if you have.
Until next time,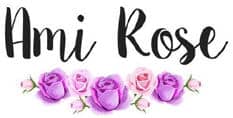 Be sure to follow me on social media to keep up to date with my latest posts!
You can find all of my social media links in the sidebar. I am @AmiRoseBlog on everything.