As many of you know, I've given up added/refined sugars for lent. I'm not going to lie, we're four weeks into it and I've found it SO difficult, cravings haven't been too much of a problem but it's the length of time meals take as absolutely everything has to be made from scratch. Shopping may have taken an hour longer each time but I've managed to find some ready made options that contain no added or refined sugars and have made meal times much easier. One of my favourite things to make has been this Tomato, Chicken and Sweet Pepper Pasta.

Tomato, Chicken and Sweet Pepper Pasta Ingredients:
Serves 4
1 jar Morrisons NuMe Tomato Pasta Sauce
200g Morrisons Wholewheat Fusilli
1 red pepper
1 orange or yellow pepper
1 green pepper
1 small red onion
250g chicken breast
1tbsp vegetable oil
50g cheese (grated)
Method:
Preparation – 10 minutes | Cooking – 30 minutes
1. Place your dried pasta into a pan of  water and bring to the boil, then simmer slowly for around 20 minutes until the pasta has softened.
2. Meanwhile, chop the chicken into slices, leave them quite big. Heat your oil in a large frying pan then add the chicken. Cook until cooked through and starting to brown, then remove from the pan.
3. Preheat oven to 200c. Dice the red onion and dice and slice the peppers, I usually dice half of each pepper then slice the rest into larger chunks. Add your peppers and onion to the pan and cook on a low heat for around 5 minutes until softened. Then return the chicken to the pan and cook for a further 2-3 minutes.
4. Add the jar of sauce to the pan and simmer slowly for 5 minutes whilst stirring to ensure the chicken, peppers and onion are well coated. Drain the water from the pasta and add the cooked pasta to the pan and stir well to coat.
5. Place the contents of the pan into a ovenproof dish, top with grated cheese and cook at 200c for around 25 minutes until the cheese has started to brown.
6. Serve on it's own or with mixed vegetables.
Enjoy… 
I'd love to hear what you think or see your photos on Twitter (@AmiRoseBlog) if you have a go at making this yourself.
Until next time,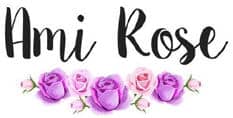 Be sure to follow me on social media to keep up to date with my latest posts!
You can find all of my social media links in the sidebar. I am @AmiRoseBlog on everything.