OK so I know I've featured this Jewellery Box jewellery in a few Manicure Monday posts recently but I just had to give it it's own post. Look how gorgeous it all is. They have thousands of products on their website, from rings, to bracelets, to charms, to nose studs. They have almost every type of jewellery you could imagine, and a lot of it.


All Jewellery Box jewellery comes gorgeously gift wrapped like the photo above so it would make a perfect gift for somebody, it also doesn't break the bank either. I feel all of their jewellery looks much much more expensive than it really is. I love how dainty a lot of their products are, ideal for someone with tiny fingers and wrists like me.
The necklaces photographed above are their Fine Light 18ct Rose Gold Dipped 7 Inch Arrow, the Open Heart Rolo Chain Bracelet and the Fine Infinity Loop Belcher Chain Braclet. The rings are the 2mm Twisted Pattern Stacking Ring, the Infinity Loop 1mm Stacking Ring and the 2mm Simple Wishbone Stacking Ring. You probably can't see the designs very well in the photos, rings and earrings in particular are very hard to photograph.
Jewellery Box jewellery starts at as little as £5 and many of their gorgeous bracelets are under £10. I love that they're always adding to their collection too, there's always something new when I'm scrolling through their website, I can't wait to start building on my collection.
I feel they have something for everyone and something for every occasion too. Although I feel their little dainty bracelets and rings are perfect for every occasion. All of their jewellery is available to buy online at www.jewellerybox.co.uk.
Have you bought anything from Jewellery Box? What are your favourites from my collection?
Until next time,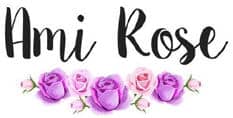 Be sure to follow me on social media to keep up to date with my latest posts!
You can find all of my social media links in the sidebar. I am @AmiRoseBlog on everything.