Honey is one of my favourite things to add to a smoothie, it adds sweetness (I've got a very sweet tooth), but it's still nice and healthy. Especially Manuka Honey, filled with essential vitamins boasting a nutritional content up 4 times larger than usual honeys. Here are 3 Healthy Manuka Honey Smoothies. Each recipe makes 1 large or 2 small smoothies. I've used my Breville Blend Active blender to make these three smoothies.

Strawberry and Blueberry
80g strawberries
50g blueberries
30ml milk
100ml Greek yoghurt
1 tsp Manuka Honey*
There's not really much to say about making smoothies, it's just a case of throwing everything together. Hull the strawberries and slice each in half, add the rest of the ingredients and add honey to taste, add more if you would like a sweeter smoothie. This is one of my all time favourite smoothies.
Mandarin and Honey
3 mandarins or small oranges
1 tsp vanilla extract
60ml milk
60ml Greek yoghurt
1 tsp Manuka Honey*
Peel the oranges and add the rest of the ingredients, again add the honey and vanilla to taste. Sometimes I add an extra teaspoon of vanilla to this one and I add lots of ice as orange smoothies are always nicer cold.
Pear and Cinnamon
1 pear
1/2 banana
1/2 tsp cinnamon
40g oats
120g Greek yogurt
160ml milk
1 tsp Manuka Honey*
Peel the pear and slice into chunks, peel the banana and slice into 2-3 pieces, add the cinnamon to taste, I usually add a full teaspoon but I know most people don't like cinnamon as much as I do.
I hope you enjoy these smoothies. Let me know what you think on Twitter (@AmiRoseBlog) if you do make them. What are you favourite Manuka Honey Smoothies?
Until next time,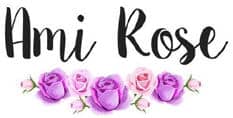 Be sure to follow me on social media to keep up to date with my latest posts!
You can find all of my social media links in the sidebar. I am @AmiRoseBlog on everything.