It's hard to fight those mid-afternoon cravings whilst sitting at a desk all day. It's about 3pm that I start reaching for the 'naughties'. Trying to find something to fill out those last few hours before the clock hits 6pm. These are 5 Healthy Desk Snacks to stash in your drawer to help you feel a little less guilty. I've especially been reaching for the Artisan Grains ranges. They're all perfect portion sizes too, I'm sure we all know too well how easy it is to eat that entire bag of peanuts.


The first on my Healthy Desk Snacks list is a good ol' banana. Any fruit makes a good healthy snack but bananas in particular will keep you fuller for longer. I have one as my stomach starts to grumble and it usually keeps me full until dinner.
Often you may think you're hungry, starving in fact, but you may just be thirsty. When I start thinking about grabbing all the unhealthy snacks, I boil the kettle first and make myself a cup of tea. More often than not, this satisfies all 'hunger' cravings. My tea of choice at the moment is T+ Green Tea and Vitamins, the Orange and Blueberry* flavour in particular.
Nature Valley have just released a range of Protein Bars. Although these are a bit more calorific than the other Healthy Desk Snacks, they're full of goodness. Each bar contains 10g of protein and 187 calories. I've got through quite a few of these and Sam loves them too. These contain 30% less sugar than the average adult cereal bar with 6g per bar.
Artisan Grains have also released their new Artisan Snacks range* and I had to include them in this round up. They're just perfect for it. The Sweet Chilli and Sea Salt and Black Pepper Edamame Beans are now among my all time favourite snacks. In addition to these, they've recently introduced Superfood Fruit Bars including Blueberry and Chia and Quinoa and Apricot. As well as being Healthy Desk Snacks, these are fabulous to keep in your handbag if you get peckish whilst you're on the road.
Last but not least, Emily Fruit Crisps. These were mentioned in last week's Degustabox* post and I have to thank Degustabox for introducing them to me. I've included the Crunchy Banana flavour but there's also Pineapple and Apple as well as the Emily Veg Crisps range. These are low in fat and calories, gluten free and vegan containing no added sugar, and of course, they're really really tasty.
Have you tried any of these? What are your go-to Healthy Desk Snacks?
Until next time,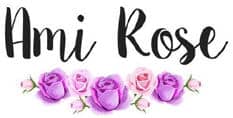 Be sure to follow me on social media to keep up to date with my latest posts!
You can find all of my social media links in the sidebar. I am @AmiRoseBlog on everything.