Today is our 6th anniversary (I'm not sure where time goes) and we're currently in Portugal for a few days away to celebrate, I'll tell you all about it and share lots of photos when we're home. For today's post I wanted to do something a bit different for our anniversary and share some 'through the years' photos for you. If you're not keen on picture heavy posts then look away now!
New Zealand 2009, I'm sure this is what has kept us together so long. Just three months into our relationship (and knowing each other) we flew half way across the world with each other for an entire month. I never get bored of telling this story, in fact I'm grinning like an idiot whilst writing this now. I mentioned that I wanted to go to New Zealand after I finished my GCSE's and Sam said he would love to go too so that was that, it was booked. We had the time of our lives and I honestly think it was a fantastic idea to go at the 'fresh' stage of our relationship as we didn't want to disagree so did whatever each other wanted to do with no arguments whatsoever, I'm pretty certain this is when we said the 'l word' too.
I know I know, what was I thinking with the red hair *monkey covers eyes emoji* these photos were taken whilst travelling Spain and France in 2010 with my along with my brother, mother, her now ex and his children, we had a lovely time but so much of it was spent in the car rather than enjoying the places we travelled to. I really think we could have done at least another two weeks.
Turkey 2010, I loved this holiday – we went with two friends and just had a week filled with fun, I don't think I had one alcoholic drink all holiday either, mainly slush puppies. We went mid August so it was VERY hot, it got up to 53 degrees Celsius!
This is still one of my favourite and most memorable holidays to date – Kos 2011, it was just perfect. I don't know what made it amazing but just every single thing worked in our favour. We were upgraded to a studio apartment with our own pool terrace and steps to the all inclusive bar, the staff were lovely, food was lovely, the country was amazing, I can't wait to go back again. We hired out a moped for one day and explored the island which was fun.
Morocco 2012, for some reason this was the ONLY photo we took on this holiday. The hotel was lovely but I didn't feel safe in the town at night which put a dampener on things. This was the first time I'd seen a camel in real life and cried when I met it.
Rhodes 2012, I never even uploaded these holiday photos to Facebook. We had a lovely time but I was at my heaviest and didn't want to share the photos with the world. This photo was taken when we hired a quad out for the day and went exploring.
Cyprus 2013, the restaurant in this second photo was perfect, what crazy views. We stayed in a hotel right on the beach with its own water park AND it was all inclusive so you can imagine we didn't leave the hotel much. We went with Sam's brother and his girlfriend and I can remember playing cards one night and everyone was cheating to see how long it would take me to notice, obviously I didn't and thought they were all amazing at cards which they found hilarious.
This was our anniversary last year, Beziers 2014, such a fantastic holiday and I was overwhelmed to be celebrating five years with 'my boo' and now it's six. I feel so lucky to have spent the last six years with Sam and shared so many lovely experiences together.
Here's to many more happy years,
I love you Sam.
Do you have a love story to tell? I'd love to hear it.
Until next time,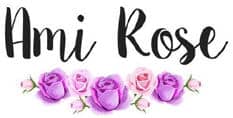 Be sure to follow me on social media to keep up to date with my latest posts!
You can find all of my social media links in the sidebar. I am @AmiRoseBlog on everything.