Little ol' me thought there was only make-up wipes and baby wipes but boy was I wrong. Halo Wipes have created a wipe for almost everything! Obviously I'm not saying stop washing right now and only use wipes but their range* is perfect for on the go freshness for people with busier lifestyles, giving you back the me time you deserve.

Halo Wipes have your standard Facial and Eye Make-up Removal Wipes. These come in handy little pouches of 10-30, perfect for your handbag. Both are fragrance free and suitable for sensitive skin. The Eye Make-up Removal Wipes work wonders. They remove all traces of make-up without any vigorous rubbing and just one will remove all of my make-up. They then have Deodorant Wipes which are probably my favourite from this selection as they've come in the most handy to me. They're perfect for those days where you go out straight from work and need a quick freshen up.
Their Moistened Toilet Tissue is perfect for those oh no there's no toilet roll in this public toilet but it's too late moments, I'm sure we all have those. It's soaked in a chamomile formula too which provides freshness and gentle cleansing.
I've been using the Antibacterial Multi-surface Wipes to clean the surfaces at home every now and again as they're much easier then searching through the cupboard to find the antibacterial spray. They're good for giving public toilet seats a wipe too, maybe I'm over the top but I really don't like public toilets. These kill 99.9% of bacteria, I don't think anything can claim to kill 100% of germs.
Lastly is their Hand Wipes, these are also antibacterial and again handy to keep in your handbag. These have an added moisturiser too keep your hands soft and smooth. Although I couldn't replace my trusty Carex Bubblegum Antibacterial Hand Lotion, that smell *heart eyes emoji*.
Have you used any Halo Wipes products before? Do you have any handbag essentials?
Until next time,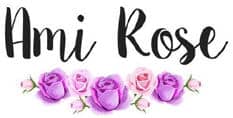 Be sure to follow me on social media to keep up to date with my latest posts!
You can find all of my social media links in the sidebar. I am @AmiRoseBlog on everything.