It's not often you can put the words 'guilt free' and 'snacks' together. Hats off to you Diablo for creating your yummy Sugar Free range*. Diablo were meaning to send us some snacks for the PLB Slumber Party in November but didn't get around to it. However, luckily for us, they still sent a lovely hamper filled with goodies to each of us. I got these just before Christmas and decided to wait until January, when I was on my 'heath kick' to devour them. I'd seen this range at my local Garden Centre and almost picked their cookies up. I'm not sure why I didn't, I probably got a pick 'n' mix instead knowing me.

Sitting down and testing these is probably the best thing I've done all January. I was just sitting in my office munching chocolate and taking notes. Oh if anyone could have seen me then. These are only a few things from Diablo's vast range but it gives you an idea of the sort of products they do. They also do Sugar Free sweets such as Lemon & Cream or Strawberry & Cream which I would have loved to try. I'm much more of a sweetie girl than a chocolate girl.
The Diablo Muesli Bar range was my favourite from this selection, these were ideal to have alongside my lunch. I usually have a bowl or soup, a sandwich or cous cous for lunch when I'm at work along with a little snack. I'm one of those people that usually craves a sugary snack after eating. However since giving up most (it would be tricky to give up all) refined sugars I haven't been craving it anywhere near as much. Some days not at all. The Cranberry and Raspberry Muesli Bar was my favourite out of the ones I tried. I would chose everything 'berry' if I could. This was delicious and didn't taste sugar free whatsoever, it has 106 calories which is an average amount for a snack.
Diablo also sent a selection of their Cream Filled Chocolate Wafers and oh my gosh these were good. I'm usually really picky with my chocolate (Cadbury's, Cadbury's, Cadbury's) but these were so enjoyable. They reminded me of those traditional Caramel Wafer Biscuits, anybody remember those?
I wasn't keen on the Diablo Hazelnut Chocolate Spread but I can't stand Nutella. Or any form of 'liquefied' chocolate (chocolate ice cream, hot chocolate, you name it) so it didn't surprise me that I didn't like this. I put it in the cupboard at home though and it went in less than a week so someone must have enjoyed it (Sam I'm talking to you)!
They also do a Sugar Free/No Added Sugar chocolate range including dark chocolate with hazelnuts and milk chocolate. Considering I'm very picky with chocolate, I wasn't expecting to be a fan of these but they weren't too bad. I mean, I couldn't sit in front of a film and devour these like they were 'normal' chocolate bar, that would be lying to you. But I did enjoy them. I've only had a little bit to try so I'm going to save these and incorporate them into a healthy recipe later this month.
Lastly are the Diablo Sugar Free Chocolate Chip Cookies, these are what I nearly picked up at the Garden Centre and I'm so disappointed in myself that I didn't now (damn you pick 'n' mix). These are (were) lovely and taste just like Maryland ones which are my absolute favourites, you honestly can't taste the difference. I definitely will be picking these up next time I see them; probably on the next rainy Sunday afternoon when I'm wondering around the Garden Centre.
All of the products mentioned above can be bought from Diablo directly, Holland and Barrett or many local, independent stores.
Have you tried any Diablo products? What do you snack on when you're on a health kick?
Until next time,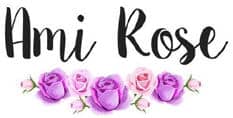 Be sure to follow me on social media to keep up to date with my latest posts!
You can find all of my social media links in the sidebar. I am @AmiRoseBlog on everything.