Happy Halloween. I love that Halloween falls on a Monday so I can do an extra special Manicure Monday. How cute are these Halloween Nails? I do feel I've cheated a little though. But I couldn't resist these. I went to the #BloggerHalloweenParty on Saturday and wanted to do something a little different with my nails. I remembered I had these Halloween Nails from last year and thought I'd try them out.

This is a set from Elegant Touch, from their 2015 Autumn range. They had similar designs available this year and I'm sure they will next year too. This was my first time ever applying/wearing false nails so I wasn't expecting anything amazing. I was over the moon with the final result.
These Halloween Nails are applied using a double sided adhesive gel. I wasn't sure what to expect of a gel, surely they couldn't stay on for long? Especially with my lifestyle. Boy was I wrong. I applied these as per the instructions which were so simple to follow. Stick the adhesive gel to the nail, smooth, peel off the protective layer then stick the nail to the other side. I then held each nail for around 20 seconds to ensure the nail was fully stuck to the adhesive gel. It took me around 10 minutes from start to finish.
Considering this was my first time applying false nails I think I've done a pretty good job. They've now lasted 3 days with no sign of movement. They've withstood cooking, cleaning, showering and of course the #BloggerHalloweenParty. I'm sure they'll last a good week, if not more.
Elegant Touch Nails start at just £4.65 and are available on their website or Boots online or in stores. They're currently 3 for 2 at Boots too. I'm eyeing up Glitter Lining and Deck The Halls from their House Of Holland Collection.
What do you think of these Halloween Nails? Have you tried Elegant Touch Nails before?
Until next time,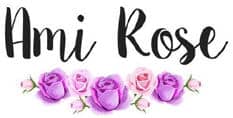 Be sure to follow me on social media to keep up to date with my latest posts!
You can find all of my social media links in the sidebar. I am @AmiRoseBlog on everything.