Last weekend Mum and I jumped out of our comfort zones, quite literally. As part of the LighterLife Fast #ICanDoThat challenge (which you can read all about here) Mum and I made our way to Go Ape. Go Ape is a tree-top adventure/high ropes course where you complete an obstacle course harnessed 30ft in the air. I did something like this when I was younger and thought nothing of it, but my gosh did I find it ten times scarier as an 'adult'.
LighterLife Fast gave me the challenge of getting my Mum to do something she'd always wanted to, but not had the confidence to do so. I asked her a few questions in conversation, trying not to give anything away too much. And from the impressions Mum gave, it was an adventure she wanted. She mentioned things like kayaking, or climbing, or going in a hot air balloon. Then I thought why not climb, 30ft in the air, that combines a few of the things she mentioned. I didn't realise just how much she'd wanted to visit Go Ape until we actually arrived.
I picked her up at around 9am. And getting her to get in the car with me was a challenge in itself. Mum is a nervous passenger and not knowing where we were going probably didn't help. We made our way to Go Ape (unknowingly to Mum) which was around 50 minutes from us in Gloucestershire. She was guessing the entire way there, and missed three signs that literally said Go Ape. She guessed with with about 2 miles of the journey left.


We arrived a little late so had to wait for the next session. Whilst we waited we got a cup of tea/coffee and had a wonder around the beautiful lake. It wasn't bad weather at all, considering it was forecast 20 mph winds and rain. We didn't see any of that. After our walk it was back to the cabin to get harnessed up. I think being in our harnesses made what we were about to do a little more real as Mum and I both went a little quiet. We listened intently to the safely briefing (don't want to miss any of that) and then were let loose in the forest.



There was a little tester ladder and zip wire to begin with, just to make sure we knew how to do everything and 'stay attached' – the Go Ape motto. Then it was on to the bigger stuff. Almost immediately we were greeted with a Tarzan Swing, where we had to jump from a platform and swing into a net on the other side, then climb the net. I just jumped, I didn't want to think about it too much. Which was the mistake Mum made as she needed a little encouragement.  But absolutely loved it when she did it. We then did a few more rope crossings and it was on to our first zip wire, it was massive, and the thought was terrifying. You really do have to put a lot of trust into your harnesses and ropes. Mum didn't think she'd be able to do this, but now says it was one of her favourite parts of the course.




Go Ape has 5 sections, each one ending in a zip wire, and they get higher and higher. I think they have 5 different sections so you can stand on the floor for a little bit, and gather the courage for the next bit. Some of the crossings were quite tricky and others relatively simple, but the entire course was so thrilling. Mum decided to follow me along an 'extreme' crossing – 'because I did it so she could too'. She couldn't, she got stuck. She was low key terrified but found it hilarious at the same time. Mum forgot how to walk, so she couldn't get her foot out of the hoop and forward to another one, she couldn't go backwards either. I think she must have been dangling from these hoops for about 5 minutes, with us all screaming at her to let go of everything and pull herself along. But despite depending on the wires for the Tarzan Swing, Zip Wires and some of the crossings, she just couldn't let go. She ended up being helped backwards and took the easier route, at least she can say she laughed during and afterwards, although most of that was to disguise sheer terror.




Before we knew it, it was onto the final course, which included a huge Tarzan swing. Just like before, I launched myself off of the platform. But it wasn't like before, this one dropped you quite a bit before you swung. I don't think I've been more scared, my heart was racing and my whole body was shaking. Sam tried to capture the terror on my face but I don't think it can be quite seen. At this point I couldn't wait for my feet to touch the floor again. I've never appreciated the floor so much in my life. Mum coped a lot better with that Tarzan swing than I did, taking it completely in her stride. Then it was on to the final, and biggest, zip wire to end the course.
We did it, we both did the entire course, and tried everything. We jumped off platforms 30ft in the air into absolute nothingness, I didn't think I was scared of heights until now. But I'd most definitely do it again. We had such a lovely day and have to thank LighterLife Fast for helping us step out of our comfort zone. And for helping us both feel much less bloated prior to the course with the help of their products. I can image it being quite uncomfortable otherwise. Mum, I know you're reading this. I hope you had a wonderful day and Happy Mother's Day. Thank you for everything.
Have you visited Go Ape before? How did you get on?
Until next time,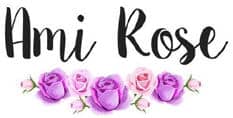 Be sure to follow me on social media to keep up to date with my latest posts!
You can find all of my social media links in the sidebar. I am @AmiRoseBlog on everything.