Over the last couple of weeks I've been using the new releases from the Garnier Skin Active range. And I've been loving them so much I just had to tell you all about them. I've always got to try skincare for quite a while before I can even give you my first impressions as I have strange [read as: awful] skin. But from the moment I received this selection, something told me I was going to love it. Maybe because I'm already an avid user of the Garnier Skin Active Micellar Waters, which have been transformed into a Gel Wash as part of the new collection.

So I'll go straight in with the Gel Washes I've just mentioned. Garnier have introduced the Micellar Gel, available in Sensitive Skin and Combination/Sensitive Skin. My skin is definitely combination, but not the usual oily t-zone and dry patches; it's more 'oily for a month, then really dry, then oily again'. So frustrating. Both of these have seemed perfect for my skin type so far. One thing I do find with these however is they sting my eyes a little, which I don't find with the Micellar Waters. To overcome this I've been sticking with my trusty Nivea Cleanser and Toner for my eye area and then going in with the Garnier Micellar Cleansing Gel Wash as a second cleanse.
The next product that has been introduced into the Garnier Skin Active range is the Moisture Bomb Hydrating Mist. I've finally given in and gone make-up free in the office as my skin has reached a new low. I cannot keep clogging my pores with make-up each and every day as it really won't improve. Fingers crossed for better skin this summer. My morning skincare routine currently consists of washing with the Micellar Gel Wash, then massaging in Bio Oil to hopefully help with acne scarring and finally a spritz of the Hydrating Mist. I've also been taking this into work with me so I can apply it to my skin throughout the day (when I remember).
I finally got around to trying the Garnier Skin Active Moisture Bomb Tissue Mask last night. You can find a slightly questionable photo of me using it on my Twitter if you'd like. I always giggle at how I look when trying new face masks. I loved this one right away. It's relativity easy to apply then it needs to be left on for 15 minutes, although I think I left it on for slightly longer than this. Then you simply remove it and massage in any excess serum. I found I had quite a lot of excess serum so removed a little with a cotton pad before massaging the rest in. I noticed an immediate different in the tone and feel of my skin. I'll definitely be picking up some more of these when I'm next in Boots.
Garnier has also released the Pure Active Sensitive range. Aiming at sensitive, blemish prone skin, highlighting that it's not just a teenage problem, thank you Garnier. The Sensitive Collection includes an Anti-Blemish Soap Free Gel, an Anti-Blemish Care-In Toner and an Anti-Blemish Soothing Moisturiser. All of these I haven't had the chance to try yet, as I'm using up my similar items first. I'm sure I mention all the time that I hate opening new products before finishing old ones. I'm so funny about leaving products open and going back to them. I always try and finish a products within 3-6 months of opening it then usually throw it away if it's left open longer than that. Especially with facial skincare products as I have such sensitive, acne-prone skin. I may start to use the Anti-Blemish Soap Free Gel Wash in the mornings instead of my Micellar Gel Wash.
I'll be sure to let you know what I think about these products once I've been trying them for a little longer. You may even spot them in a monthly favourite post as I'm starting them again as of next month.
Have you tried any of these Garnier Skin Active products? What do you think?
Until next time,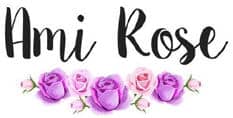 Be sure to follow me on social media to keep up to date with my latest posts!
You can find all of my social media links in the sidebar. I am @AmiRoseBlog on everything.