Well January seemed to go at a snails pace and then it was the middle of February before I knew it, and where did March come from? Instead of writing a really late January empties, I thought I'd combine January and February. I've got quite a bit of Haircare in this empties post – it seems I've been going crazy using up hair products this month. I also wanted to include a little review of the Garnier Micellar Gel Wash as I've been using this for what seems like forever – it's become one of my go-tos.

Haircare: 
I've got a couple of Lee Stafford products in this month's empties as many of you will already know these are one of my favourites. The Hair Growth Treatment especially – you can read a full review of this one here. I got the Fix It Conditioner at Clothes Show a couple of years ago and hadn't got around to using it until recently. I loved this one, it wasn't too heavy and really improved the condition of my hair.
The Maple Hollistics Argan Shampoo and the Silk 18 Conditioner were the two I was reaching for throughout January. These are both completely natural products containing argan, jojoba, avocado, shea butter and many other natural oils and amino acids. These smell absolutely wonderful.
The last Haircare product is the Aussie 3 Minute Miracle – I can't remember who recommended this one but I saw it in a YouTuber's Favourites video and added it to my "to buy" list right away. I used this once weekly throughout November and December and used the last little bit in January. It seemed to last forever. It's definitly a wonderful product for a little price tag, these are currently 2 for £7 in Superdrug.
Skincare:
I haven't got through as much Skincare as I usually would recently but I've started quite a few new products. One product I have finished – for the third time – is the Garnier Micellar Gel Wash. I've mentioned this SkinActive range here so you can read more about the products. I've really loved the Gel Washes, especially this one for sensitive skin. I really feel it's helped with my acne breakouts and making sure that my skin is completely clean morning and evening. I use this twice daily by wetting my face with warm water, massaging this into my skin and removing with a muslin cloth.
The Blackhead Nose Pack came in my YesStyle Korean Beauty Box. I didn't really get on with these very well, I must prefer the T-Zone ones. Sam and I have been using the Sebamed Liquid Face & Body Wash over the last month and I love the fact it's soap free. I don't know about anyone else but I hate the way that soap feels on my skin, it's so drying. This hasn't made me breakout like some body washes do.
Lastly in Skincare is the Ginvera Green Tea Repair and Nourish Night Cream. This is one that I've kept forgetting about and then coming back to. I really love the entire Green Tea range so I'm not too sure why this one has taken me so long to finish. I've been lathering this one my dehydrated skin after washing it with my Garnier Micellar Gel Wash.
Make-up:
I've only got a couple of make-up items this month. The Revlon Colourstay Foundation and the Benefit Roller Lash Mascara. Now I have a mixed opinion on the Colourstay Foundation – I love the formula, I love the coverage, but my skin has never been worse since using it. I didn't think much of it until I was reading some other reviews but I don't think I'll be repurchasing this one.
The Benefit Roller Lash on the other hand is a miracle product for me. I love it. It makes my lashes look so so long but natural at the same time and not clumpy whatsoever. I've got quite a few new mascaras to try but I'll definitly be repurchasing this at some point.
Nailcare:
I never really have much in the form of Nailcare empties as there isn't much you can use up. I think I've used up one Nail Polish in my entire life. The only product in this month's is the Cutex Nourishing Nail Polish Remover, my favourite. This is only the 100ml size but I find it lasts forever, even when I'm painting my nails once a week. I'm sure my Mum bought this for me last Christmas and I've only just used it up. I've now started on a new Sally Hansen Strengthening Polish Remover.
Other:
A couple of miscellaneous products to end this empties post. The Nano Whitening Toothpaste and Mouthwash. I don't have much to say about these other than they were so handy to take to London last month. I'm slightly addicted to sample size make-up and love filling my suitcase with them when I go away. They give you an opportunity to try lots of different products and you don't end up taking more than you need and bringing it home with you again. Unless you're me and you keep all the empties for posts like these! I have a whole post on why make-up samples are better than full size products here if you'd like to give that a read.
Have you tried any of these products? I love the Garnier Micellar Gel Wash.
Until next time,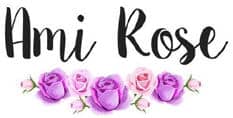 Be sure to follow me on social media to keep up to date with my latest posts!
You can find all of my social media links in the sidebar. I am @AmiRoseBlog on everything.