I became aware of Forest Feast when a selection of their products started being sold in my local shop. And fell head over heels in love with their Wasabi Chickpeas. I discovered these whilst trying to find a healthy snack and they were pretty much all I snacked on throughout lent last year as I gave up junk food. This year I've made it even harder for myself by giving up refined sugar which really limits what snacks I can have, if any. Forest Feast kindly sent me a selection of their products*, not for during lent but there are a couple I can have. Sam has been kind enough to try the rest of the products and let me know what he thinks. Hopefully he'll save some for me for after lent.

My favourite from this selection is the Sri Lanka Kandy Mix (mentioned in
last Wednesday's post
). This contains raisins, pineapple and toasted coconut with roasted almonds and cashews. I love every bit of this except for the raisins. But I've never really liked raisins anyway. I have a handful of these with my lunch a few times a week and they help to keep me full until dinner. I tried the Physalis but it had a weird taste that I couldn't get used to. Sam's Mum loves them though so I've given these to her to finish.
Some Dry Roasted Peanuts have sugars and others don't. I don't think I can have the ones in this selection though as there's a few sugar based products within the ingredients. Saying that, Sam has quite happily demolished the whole bag anyway. As for the other treats, they're all waiting for me to eat once lent has finished (I'm sure it will be over once this post goes live, YAY). I can't wait to try the Sour Cherries and the Coco Mango.
Have you tried any products from Forest Feast? What did you think?
Until next time,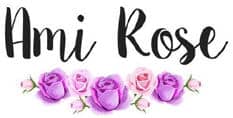 Be sure to follow me on social media to keep up to date with my latest posts!
You can find all of my social media links in the sidebar. I am @AmiRoseBlog on everything.