Whilst going through, editing and reformatting my old posts I discovered my April Wishlist 2015. I was going to make it a monthly thing but I'm pretty certain I haven't done a wishlist post since that one. I'm so useless at regular features, except for my Manicure Monday posts, I've only missed a handful of those in over 2 years. I suppose it's got to be something that I'm really into for me to write about it regularly.
Anyway, as you can see, I've made a lot of changes to my blog. I've hanged the design, layout, become self-hosted and moved to WordPress, all in less than a week. After 7 years of blogging that I should probably start taking it a little more seriously. I've written a schedule and I'm starting to write posts up to a month in advance too. Lets just hope I manage to stick to it this time. Pipdig helped me make the move, and I'll be writing more about my experience with them in the near future. But now onto what this post was supposed to be about, my April Wishlist 2016.

1. BarryM Sunset Gel Polish (Image Source) – You should all know about my addiction with BarryM Nail Polishes by now. I have well over 100 of them. I haven't tried ANY of their Sunset Gel Polishes yet though so I'm hoping to add a couple of these to my collection this month.
2. Pots&Co Sticky Toffee Pudding (Image Source) – OK so during lent (I gave up refined sugar) watching Sam eat Sticky Toffee Pudding at ZaZa Bazaar was the worst thing ever. I used to love the Heinz Sticky Toffee Pudding tins when I was younger but I couldn't find them in store. I've heard Pots&Co do some lovely puddings but I'm yet to try any of them, lets hope this was worth waiting for.
3. Black+Blum Bottle (Image Source) – As much as I love my Bobble Bottle, I'm not liking the idea of drinking out of a plastic bottle during the summer due to the risks involved (I worry far too much). I love that the Black+Blum Bottles are glass so I'll definitely be changing over to one of these this month.
4. Rimmel Stay Matte Pressed Powder (Image Source) – This has been on my phone wishlist for a while, does anyone else have a 'to buy' list in their phone? (It's about as long as my arm now, damn you YouTube videos). I need a new powder as my current Bourjois powder is about to run out.
5. Moroccan Oil (Image Source) – I've recently had 3.5 inches cut off my hair and it's in such a good condition and I want to keep it this way. I haven't used Moroccan Oil for a while but my hair loves it when I'm do so I need to invest. A little bottle lasts forever so it's definitely worth the money.
6. Vienna Twisted Bikini (Image Source) – I struggle so much to find bikinis that fit as I'm an awkward size. I almost always end up going straight to Boux Avenue as they do mix and match and DD+. I love this purple colour but they also have a really nice deep green bikini that I may have to purchase too. Mother when are we going summer wardrobe shopping?
7. Britney Spears Fantasy (Image Source) – This is one of my all time favourite fragrances, I'm sure it was one of the first I used. My Grandma bought it for my Mum for Christmas and ever since I've been meaning to pick it up. It's currently half price at The Fragrance Shop too.
8. H&M Cotton Cardigan (Image Source) – I'm forever buying Primark cardigans and they're forever falling apart after a few wears. I've still got H&M cardigans from when I was at school (over 7 years ago, cry) and they're as good as new. These are only £9.99-£12.99 and I'm hoping to pick up a couple of colours for Spring/Summer. Especially this gorgeous Coral colour.
9. 6kg Kettlebell (Image Source) – Last but not least, this Davina Kettlebell from Argos. I sold my weights recently as I wanted to get a new collection. I do most things with 4-8kg weights so I thought 6kg was somewhere in the middle. I'll use this for weighted squats, oblique exercises and maybe even russian twists if I'm feeling brave.
Have you tried any of these? What's on your April Wishlist?
Until next time,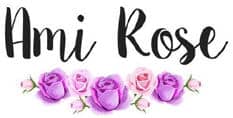 Be sure to follow me on social media to keep up to date with my latest posts!
You can find all of my social media links in the sidebar. I am @AmiRoseBlog on everything.