I love using up my 'usual' tea. It means I get the chance to try some of the 100 other teas I have in my cupboard at work. This week I turned to a lovely selection of T-Sticks Of London Teas kindly sent to me by Adele. As I had quite a few different flavours to try, I thought why not have a couple of 'tea tasting' days and then write a T-Sticks review for you.

T-Sticks* come in 10 flavours; Breakfast Brew, Earl Grey, Zen Green and Lemon, Moroccan Minty Green, Zesty Lemon, Fruity Forest, Striking Strawberry, Perfectly Peach, Tangy Orange and Rocking Rooibos. Quite a selection there right? They're such an amazing concept too, something I've never seen before. They come in little stick sachets, like the sort you'd get sample coffee in. But with holes in so these sachets are effectively your teabag. Place your T-Stick in a cup, fill with water, leave to brew for 2-5 minutes (depending on how strong you want it), then give it a stir and enjoy. I just love the simplicity of it.
The Moroccan Minty flavour was delightful and my favourite out of the selection I tried. The smell and taste was exactly like Softmints, I thoroughly enjoyed this one. I think it would make a lovely morning tea. Another of my favourites was the Rooibos. I haven't tried Rooibos tea before and at first I was put off with the tobacco smell but I soon changed my mind once I'd tasted it. The High Tea was nice too. I found this similar to English Breakfast tea and think it could be enjoyable with a dash of milk if you're not keen on really strong tea.
I must admit, I didn't even try the Earl Grey, the flavour just isn't for me, maybe one day. The fruity teas were lovely, particularity the Strawberry, but I've always been a berry lover. These smell quite a bit stronger than they taste which is common with fruit teas but still taste nice and sweet. I've been having these as a mid afternoon pick me up.
I didn't manage to try any of the Lemon teas or the Zen Green but I'm sure I'll love them just as much as the others.
Have you tried T-Sticks before? Which of these flavours would you choose?
Until next time,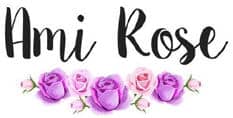 Be sure to follow me on social media to keep up to date with my latest posts!
You can find all of my social media links in the sidebar. I am @AmiRoseBlog on everything.