Whenever I feature Avon products, I always say how underrated they are among the blogging world. I've been buying Avon products for years and there's certain products that I'll keep on buying for years to come. Their nail polishes are one of them; I've never found a formula like it. Their new Avon Gel Shine collection doesn't disappoint, these cover well (you can get away with one coat) and can last up to two weeks.

For this week's Manicure Monday I've used Fire Cracker from the new Avon Gel Shine Pop Polish Collection. I mentioned about that these cover in one coat so if you're rushed for time one coat is perfect. I always used two coats as I feel that polishes over last longer when you've used more than one coat.
The Avon Gel Shine Pop Polish Collection comes in eight other colours, my favourites are Purplicious, Orange You Crazy and Mint To Be. There are also two other Avon Gel Shine Collections available; Vamp It Up and the Pastel Collection. The Pastel Collection is full of perfect colours for Spring, I especially love Lavender Sky and Sheer Love.
I made sure my two coats of Fire Cracker were completely dry then added a MoYou polish with a nail dotter tool to add the polka dots. I always use MoYou polishes to add nail art as they're much thicker than usual polishes and dry quickly too.  I tried to make the dots as random as possible but they still ended up looking quite sequenced. I finished this nail look with a top coat of Orly Tough Cookie (another favourite of mine).
I think this nail look is quite Disneyesque, I'll definitely be painting my nails like this when I visit Disneyland, unless I get amazing at nail art by then and I can paint the characters which is highly unlikely.
Have you tried the Avon Gel Shine Collection yet? What do you think of this look?
Until next time,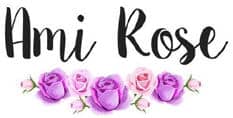 Be sure to follow me on social media to keep up to date with my latest posts!
You can find all of my social media links in the sidebar. I am @AmiRoseBlog on everything.