HAPPY EASTER! I couldn't resist posting another Easter Baking recipe for you. This time for Easter Biscuits. I don't know what it is about Easter but I always want to bake so much, there's at least 3 other things I want to bake too. I was going to schedule this recipe for next Wednesday as I usually only do one baking post a week but I thought as it was Easter, I'd do an extra baking post for you. Yet again I didn't get to try these myself, damn you lent, but my friends and family kindly tried them for me and all said how wonderful they tasted. I was so pleased with how these turned out.


Easter Biscuits Ingredients:
Makes 15 Biscuits
100g butter (softened)
80g caster sugar (plus extra for sprinkling)
1 egg yolk
220g plain flour (sieved)
60g dried mixed fruit (or currants)
1 teaspoon cinamon
1 teaspoon mixed spice
2 tablespoons milk
Method:
Preparation – 15 minutes | Baking – 15 minutes
1. Preheat the oven to 180°c. Grease and line two baking trays with baking paper.
2. With an electric whisk, beat the butter and sugar together until light and fluffy. Then add the egg yolk, a little at a time.
3. Fold in the flour, spices, mixed dried fruit/currants and milk then knead for a couple of minutes to form a soft dough.
4. Lightly flour your surface and use a rolling pin to roll out the dough to around a 5mm thickness. Then cut out your biscuits. Continue this until all the dough is used. Sprinkle the biscuits (generously) with caster sugar.
5. Place your Easter Biscuits on the prepared baking trays, place in the oven and bake for 15 minutes. Remove from the oven, sprinkle with extra caster sugar and leave to cool.
Enjoy…
I would love to see your photos on Twitter (@AmiRoseBlog) if you have a go at making these yourself. What is your favourite thing to make for Easter?
Until next time,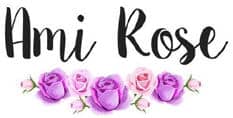 Be sure to follow me on social media to keep up to date with my latest posts!
You can find all of my social media links in the sidebar. I am @AmiRoseBlog on everything.