I was eagerly awaiting the postman for this month's box. And I tweeted hoping that it was a Christmas themed box as it's the last one before Christmas. I was over the moon when the Degustabox UK Christmas Box arrived. All the products are so dreamy, but quite naughty. Here's to hoping the December Degustabox is full of healthy treats for a New Year health kick. As I'll definitely be needing one of those!

You can still get a huge £7.00 off your Degustabox UK order meaning your first box will be just £5.99. That's such an amazing price considering all the goodies in this box add up to the grand total of £26.70.
It's strange because I am SO fussy yet the Degustabox is always filled with products I love. The Ryvita products in this month's box especially, along with the J2O Glitter Berry and the Hartleys Glitter Jelly. I'm going to have some fun with this.
I ran out of my favourite tea so have been drinking the Lime and Ginger Tea I got in …'s Degustabox. I was pleased to see another tea in the Christmas Box. This time Pear and Cinnamon Strudel Tea. Now how amazing does that sound? Obviously this will be accompanied by the Butterkist Choc Mallow Popcorn as I've never had something so delicious.
Sam's already claimed the Good Cider Co. Ciders. I received the Wild Berry and Strawberry flavours. As I don't drink, Sam always knows he gets the alcohol to himself. Although I couldn't have been more pleased with the J20 Glitter Berry as this is a festive favourite of mine.
How good does the Broderick's Crunchy Slam Dunk Peanut Chunk look? Including whole roasted peanuts, rice krispies, Belgian chocolate and chunky peanut butter. Marbled with white and milk chocolate. This may be a little too sickly for me but I do know someone that would love it… Oh and the Michel et Augustin Cookie Squares look just as divine. I cannot wait to dig in to this box.
Are you subscribed to Degustabox UK? What do you think of this Christmas Box?
Until next time,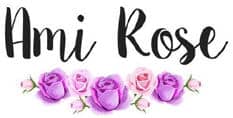 Be sure to follow me on social media to keep up to date with my latest posts!
You can find all of my social media links in the sidebar. I am @AmiRoseBlog on everything.