Degustabox is a monthly food subscription box. Each month's box is filled with 10-15 food/drink items that are brand new to the market. Giving you the opportunity to try new products at a reduced price. Degustabox is only £12.99 per month including P&P and you can save £1 per month by subscribing. You can also save a massive £6 on this box* with my discount code BLDEG15.  I'm sure you're eager to find out what was inside the May Degustabox…



Jack Daniel's Tennessee Honey Barbecue Glaze – Infused with the flavours of Jack Daniel's with added honey for sweetness. My mouth is already watering just thinking about it. This is ideal for coating chicken before barbecuing. Degustabox also included a recipe card to make Barbecue Glazed Brisket Burgers using this sauce.
Garofalo Bucati Corti – I can't wait to use this, it looks so fun to cook with. It's a corkscrew pasta made from high quality durum wheat.
Cranes Alcoholic Drink – There's two bottles included in this month's Degustabox. I got the Original Cranberry and Strawberry and Kiwi. There is also a Raspberry and Pomegranate flavour. This is an alcoholic drink made purely from crushed cranberries with added fruit juice for flavour. Sam's looking forward to trying these.
Kallø Rice Cakes – I've tried the Belgian Milk Chocolate Corn Cakes before and really enjoyed them but the Yoghurt Coated Rice Cakes sound lovely too. These are perfect as a healthier lunch.
Brioche Pasquier Croissants – Anyone that knows me well will know my love for Croissants, I could eat them for breakfast, lunch and dinner. These are wrapped in twos to keep them fresh and free from artificial colours, preservatives and hydrogenated fats.
Get Fruity – You'll get one of three flavours, Strawberry, Orange or Blueberry, I'm glad I received the Strawberry flavour at that's always my favourite. I tend to keep fruit bars in my handbag for when I get hungry throughout the day, it saves me buying chocolate and snacking on that.
Beloved Date Nectar – I've never heard of Date Nectar before but I'm excited to try it, it's a healthier alternative to honey made from 100% pure dates. I'm going to use this for baking in the near future so keep an eye out for my recipe, I think I'll try flapjacks.
The Wonderful Company Almonds and Pistachios – Sam was happy when he noticed the Pistachios as he loves them. They're a perfect snack size, I'm always buying large bags of mixed unsalted nuts and eating far too many in one sitting.
Pechkeks Misfortune Cookies – Black cookies, black humour. Yes I get the idea of these, yes they could be funny for some people but I don't think anyone wants to hear 'were you born that way or was it an operation gone wrong'.
Pomegreat – I love Pomegranate but it's one of the most awkward things to eat and I'm not keen on pips or bits. This is pure Pomegranate juice, without the bits and tastes delicious. Sam and I have already managed to drink this and we only received the box 3 days ago.
Mrs Crimbles Madeleines – These weren't on the Degustabox May Menu so I'm not sure if they're in every box. I love Madeleines, you can also get chocolate or jam filled ones, I'm a very plain eater so I love the ones without anything in the middle.
Degustabox also kindly sent these Morse Toad Chocolates to say thank you. I'm really fussy with chocolate (I'm a Cadbury's only girl) but these were delicious and I had to offer them out in a meeting so I didn't eat the entire box. I'm always making others eat my naughty food for me. You can buy these Morse Toad chocolates for any occasion and get the chocolate letters to spell out anything. I thought it was a really nice gesture.
Remember; you can save a massive £6 on your Degustabox with my discount code BLDEG15.
Do you get the Degustabox? What was your favourite item in this month's box?
Until next time,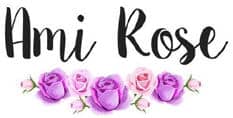 Be sure to follow me on social media to keep up to date with my latest posts!
You can find all of my social media links in the sidebar. I am @AmiRoseBlog on everything.