It's so hard being a blogger in the current online world, even harder being one of the small bloggers trying to stand out among the crowd. I've been blogging for over nine years now and I've seen the 'blogosphere' evolve in ways you couldn't even imagine. I'm still kicking myself that I deleted my first ever blog. I would have loved to read back through that now.
It's taken this long for brands to start to realise just how much a blogger can help them. I'm getting less of the 'we'd love to help you out by letting you feature our products' emails. But trust me, I still get the awful ones. 90% of the time, when brands realise the potential of working with bloggers they immediately try to get in contact with the 'biggest' blogs out there. I wanted to put this together to show you, brands, how we, small bloggers can help you too.

1. We work just as damn hard, blogging doesn't come easily to anyone. I'm not going to say we work harder because we don't. But we do have to work much harder to get the opportunities in the first place. And once we get them, and I'm speaking for pretty much every blogger I know, we will work damn hard to make the content exactly how YOU want it, so maybe, just maybe, you'll want to work with us again in the future.
2. Promotion, promotion, promotion – views may come easier to someone with a large social media following. All they have to do is post a link once and hundreds upon thousands of people may view the post. We, smaller bloggers will work our arses off to get our posts seen. Posting on every social media platform we know, probably some you've never even heard of, multiple times a day. I mean, I'm still promoting content from 2 years ago. It may take a little longer to get the promotion you intended, but you'll get it.
3. We charge laughable prices, I know it's all about knowing your worth but I know personally, if a brand that I was devoted to got in touch, I'd promote them for next to nothing, with the hope that there will be bigger and better opportunities as my blog grows. None of us expect to be paid thousands for one Instagram post, just think, pay one blogger £1000 or 20 bloggers £50, I know which one I'd chose.
4. We're more likely to post about your products, I know that I want to post about absolutely everything that I'm sent and surprise PR parcels make my day, my week, maybe even my year. Us smaller bloggers are just waiting for those opportunities, waiting to promote YOUR products.
5.  Link building; wishful thinking here but what if something that I'd written went viral overnight? Your link is already sitting there on my site and it would be worth 100x more. I don't even need to be as exaggerative as something going viral, as my DA rises over the years, as my blog becomes more popular, that link that I've placed for you will be much much more valuable.
6. Building relationships, I've touched upon this in other points but working with us now will help to build future relationships. I reached out to a brand when I'd been blogging a few months, probably a little too eager but it was worth a try, they shot me down, in quite a nasty way. This year, they got in touch with me, and guess what I did, I told them I wasn't interested. I hold grudges, and I'm sure I'm not just speaking for myself.
7. Social media following isn't always what it seems, I personally know bloggers that have bought followers, it's easy, I could go and buy 20,000 twitter followers right now and maybe you'll work with me. Just remember; followers don't mean readers.
A little side note for brands, if you give us the opportunities to work with you, please work with us. A little RT, Facebook Post, Regram, even an email to say thank you goes a long long way.
Until next time,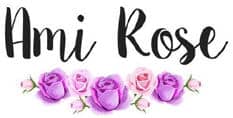 Be sure to follow me on social media to keep up to date with my latest posts!
You can find all of my social media links in the sidebar. I am @AmiRoseBlog on everything.