I started doing two monthly empties posts as I wasn't using enough products to justify an empties post each month. But looking at these I should probably start doing an one each month again. I ended up using up so many products throughout December and January. Probably because I was having lots more baths in the colder weather which meant much more pampering. I'm going to try and keep the reviews short and sweet for you so this post doesn't take all day to read.

There's a couple of primers in this month's empties, Benefit POREfessional and L'Oreal Studio Secrets. I absolutely loved sampling POREfessional, it's one of my favourite primers now and I'll definitely be purchasing the full size. It gives your skin a nice glow and didn't break me out whatsoever which is a problem I get with primers. The L'Oreal Studio Secrets should have probably been thrown out a while ago as I opened it a couple of years ago and then started using it again recently, naughty beauty blogger. It had dried out a little but I used it up as there wasn't much left. I don't feel I could really review this one properly now though.
I much prefer roll on deodorants than spray ones, I'm not sure why. I bought a few of these Avon Roll On Deodorants with a recent order and have been pleased with them so far.
If you've been reading my blog for a while you'll already know that Strawberry is my favourite Body Shop scent. I think I'm almost always using something from their Strawberry Collection. This makes you smell SO GOOD.
I've written a full post on the Maria Nila Pure Volume Range* here so you can give that a read for an in depth review and further photos. I got on really well with this range. It created volume but didn't dry my hair out which I find with many other volume shampoos/conditioners.
I've been using the TRESemme 24 Hour Body Conditioner on and off over the months but I tend to use ranges (the same shampoo and conditioner) when I can so this one has been neglected a little. I love TRESemme products and my hair seems to love them too. They last forever which is always a bonus, I'm sure this one has been in my shower since last Christmas. I know I've been using it on and off but you only use a little and it costs just £4 a bottle.
The Boot's Natural Collection Mango and Passionflower Body Spray has been sitting in my beauty drawers for years. I'm pretty sure it doesn't even exist any more. I used this to spritz on my body after getting out of the bath/shower once I'd moisturised.
I love to use a face scrub when I'm in the shower and this Simple Smoothing Facial Scrub didn't disappoint. It had little grains in so it wasn't abrasive whatsoever (and I have sensitive skin). It smelt really nice and is full of vital vitamins for glowing healthy skin. I'm using a foaming face wash at the moment but I'll definitely be repurchasing this one in the near future.
There's two of my favourite 'go-to' concealers in this month's empties post. Rimmel Wake Me Up and Collection Lasting Perfection. These are both reasonably priced (around £4 each) and don't crease when you use them under your eyes. They provide a really good coverage for spots/blemishes too. I've been repurchasing these for years and years and I'm still yet to find one which compares.
I received a few of the Real-U Control Face Gels* in my goodie bag from the PLB Slumber Party in November. I noticed an instant difference after using this one. I've completely changed my evening skincare routine recently. Along with my diet and drinking two litres of water a day. This has definitely contributed to the improvement in my skin. I gave one to my friend to try and she loved it too.
Skinetica* was another addition to my skincare routine which I think contributed to the improvement. I don't like changing too many things at once as I like to know what's breaking me out but I thought I'd take a chance with this one. I applied a little of this on a evening as the last part of my skincare routine, I put a little on a cotton wool pad then dabbed it on my skin blemishes, it felt really refreshing to use too.
I'm always using some type of texturing/salt spray and this month it's been the TRESemme Texture Style, my hair dries curly/wavy so I don't tend to brush it the day after washing, instead I spray a little of this in and scrunch to create a matte, beach wave look. It only looks like this on the first day though, if I don't brush it for longer than this it will look like a bird's nest as it's so thick!
I've used a couple of Face Mask samples this month, can you see that I'm trying to use up my samples? I enjoy using them as they help me discover new products/brands that I probably wouldn't have tried otherwise. I love both of these (Origins Active Charcoal Mask* and Exuviance Purifying Clay Mask*) and they both had similar effects on my skin. Each sample lasted for three treatments which I was really impressed with, a little goes a long way with these and although the Origins one is expensive for the full size, it would last forever.
Lastly is Max Factor's 2000 Calorie Mascara* which I was sad to finish. It's got to be one of my favourite high street mascaras and it's such a reasonable price. It made my lashes look long, voluminous and dark. I've currently got enough mascara's to last me a lifetime so I can't see myself repurchasing this one again any time soon, only because I've got so many though, I'd definitely recommend trying it if you haven't already.
Have you tried any of the products mentioned in this month's empties post? What did you think?
Until next time,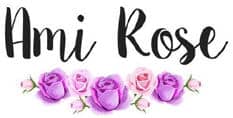 Be sure to follow me on social media to keep up to date with my latest posts!
You can find all of my social media links in the sidebar. I am @AmiRoseBlog on everything.