Biscuits of any sort are one of my favourite things to make, probably because I love eating them so much! I think it all started on 'Homemade Hobnob Day' yep, there is such a thing – along with a couple of others from my village we made hobnobs and knocked on people's doors to hand them out. Does that sound really creepy? Things like that just wouldn't happen if you lived in a city. Anyway, I loved making them and eating them so I started making more and more biscuits. Jam Tarts are something that I make for the summer, I'm not sure why but I just love sitting in the garden with a fresh lemonade (or Pimms) and Jam Tarts. I've put a little twist on these for Valentine's Day and made them with heart shaped jam centres – Jam Hearts.
 This is a very quick, easy recipe that doesn't require many ingredients.


Jam Tarts Ingredients:
Makes 8 Jam Tarts
120g unsalted butter
80g caster sugar
1 teaspoon vanilla extract
160g plain flour
Your choice of jam for the filling
Method:
Preparation – 30 minutes | Baking – 8-10 minutes
1. Line a baking tray with baking paper and preheat oven to 180c (160c fan).
2. Beat the butter, sugar and vanilla essence together with a wooden spoon until light and fluffy. Then stir in the flour.
3. Roll out the dough onto a floured surface and cut out your circles (you can make your Jam Hearts any shape you like, they don't have to be circles, I think a large heart with smaller heart centres would look really nice). Place these on the baking tray/s.
4. Cut a heart out of the middle for the jam, make sure you don't cut right through the dough, instead just take off the top layer (around 3mm) enough for a layer of jam. Fill the cut out hearts with jam and bake for 8-10 minutes until golden.
5. Dust with icing sugar.
Enjoy…
I'd love to see your photos on Twitter (@AmiRoseBlog) if you have a go at making these yourself.
Until next time,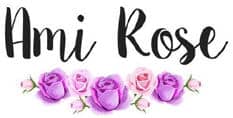 Be sure to follow me on social media to keep up to date with my latest posts!
You can find all of my social media links in the sidebar. I am @AmiRoseBlog on everything.