Guess who's back, back again… Manicure Mondays are back! For good this time. Have I said that before? As you can see, I haven't been blogging as much as I probably should be. I've had a lot going on, we've completely renovated a house, and moved into it over the last few months, so blogging has taken a back seat. But this little lull has given me a chance to reflect on my blog. And where I want to take it over the next few months, or should I say, years. One thing I have really missed writing are my Manicure Mondays, so I'm bringing them back – starting with the gorgeous Collection Boo Blue.



I'm going to hold my hands up and admit that I haven't tried any Collection Nail Polishes before. But my oh my have I been missing out. Collection Boo Blue is from the 7 Day Wear Collection and these little beauties are only £1.99. Yep, less than two pounds. I wasn't sure what to expect from a £1.99 polish, but this exceeded any expectations I may have had. I find many brushes on the cheaper nail polishes are quite chunky but the brushes on these polishes are perfect for my little nails. The polish seems to glide onto the nail too.
The colour payoff isn't great after one coat, I was slightly disappointed at first. But the second coat totally transforms the colour, and gave this absolutely gorgeous result. Collection Boo Blue is perfect for the summer months/festival season and it's one of those 'goes with anything colours'. I can imagine I'll be reaching for this colour quite often.
I can't wait to try some of the other colours from the Collection 7 Day Wear range now. Especially True Coral, Lemon Meringue and Ice – I think all of these would be perfect summer colours. You can shop the range online here or at most Boots, Superdrug and larger Tesco stores.
What do you think of Collection Boo Blue? Are you pleased to see my Manicure Mondays back? I'd love to hear from you if you have any particular colours/ranges you'd like me to feature.
Until next time,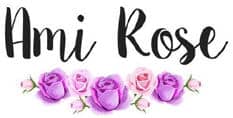 Be sure to follow me on social media to keep up to date with my latest posts!
You can find all of my social media links in the sidebar. I am @AmiRoseBlog on everything.