Today I'm going to share with you one of the easiest recipes I know, my All In One Banana Loaf. This Banana Loaf Recipe is perfect for using up those ripe, brown, bananas that would otherwise end up in the bin. The riper the better with a Banana Loaf as the riper the bananas, the sweeter it'll be. And all the other ingredients are ones that most people keep in the cupboard. I use an all-in-one method, by weighing all of the ingredients into one bowl. It couldn't get any simpler, 10 minutes and it's in the oven.

Ingredients:
110g butter
170g caster sugar
2 medium eggs
225g self raising flour
1 teaspoon baking powder
2 tablespoons milk
2 ripe bananas
Method:
1. Preheat oven to 180°c/160°c fan. Grease and line a loaf tin.
2. Measure all of the ingredients into a large mixing bowl. Stir well until combined. I usually use a wooden spoon but you can also use an electric whisk.
3. Pour the mixture in to your prepared loaf tin and gently level off the top. Place in the oven for 1 hour 15 minutes, checking at regular intervals after 50 minutes. Bake until golden brown and a skewer/knife comes out clean. Leave to cool.
Enjoy…
I'd love to see your photos if you have a go at this Banana Loaf Recipe. Do you have a favourite go-to easy recipe?
Until next time,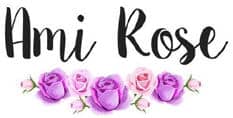 Be sure to follow me on social media to keep up to date with my latest posts!
You can find all of my social media links in the sidebar. I am @AmiRoseBlog on everything.
Another recipe for using up ripe bananas are my Banana Muffins. Another quick, easy recipe to try.