I've got a few different Christmas Gift Guides planned, I thought it would be better to separate them into categories rather than putting loads of items together. I have Fragrance, Beauty, Candles and many others planned over the next few weeks so make sure you keep an eye out for them. Perfume on it's own is brilliant, I would never say no to perfume, but for Christmas I think it's nice to give Gift Sets as they've got that little bit extra and they're always the same price, if not cheaper. Here's the frist Christmas Gift Guide – a round up of my Top 10 Perfume Gift Sets for 2015 all available from The Fragrance Shop.

1. Paco Rabane, Lady Million (£52) – contains 50ml Fragrance and 100ml Body Lotion. This is probably my favourite and signature scent, it has a light, floral scent made sweeter with added Honey and Raspberry notes. It wouldn't be a Christmas Gift Guide without featuring a favourite of mine.
2. Marc Jacobs, Daisy Dream (£55.50) – contains 50ml Fragrance, 75ml Body Lotion and 75ml Shower Gel. This has a lovely, fruity, romantic scent.
3. Desigual, Fun (£29) – contains 50ml Fragrance and an iPad/vanity case. This has a fun (hence the name) fruity but musky fragrance and comes in a striking, brightly coloured bottle.
4. DKNY, Be Delicious (£39.50) – contains 30ml Be Delicious and 30ml Be Delicious Fresh. A great chance to try both of these gorgeous scents.
5. Alesha Dixon, Rose Quartz (£15)* – contains 100ml Fragrance and a Rose Quartz Body Lotion. This is a classic floral fragrance containing Bergamot, Grapefruit, Rose, Magnolia, Geranium, Amber, Patchouli, Vetivert, Cedar and Musk.
6. Thierry Mugler, Alien (£49.50) – contains 30ml Fragrance with 100ml Body Lotion, 30ml Shower Gel and 15ml Body Creme. This is another of my favourite scents and I love that there's Shower Gel, Body Lotion and Body Creme rather than just one extra product.
7. Elizabeth Arden Miniatures (£14) – contains 3.5-5ml samples of Elizabeth Arden's best selling fragrances. This gives you the opportunity to try 5 of Elizabeth Arden's scents along with her signature fragrance, Red Door.
8. Lacoste, Touch Of Pink (£44) – contains 90ml Fragrance, 100ml Body Lotion, Beauty Pouch, Eye-Mask Cover, Vanity Bag and Pamper Guide. You're definitely getting the most for your money here in terms of products and Touch Of Pink has a lovely floral fragrance containing Jasmine, Violet and Vanilla.
9. Jean Paul Gaultier, Classique (£38) – contains 50ml Fragrance and 75ml Shower Gel. A feminine, sweet, bold scent. I've tried the Shower Gel and I smells just as gorgeous as the Perfume, I love the bottle too.
10. Gucci, Rush (£40) – contains 30ml Fragrance and Body Lotion.
As my Desigual Giveaway was so popular last year I thought I'd do it again this year. This would make a perfect Christmas Gift for a loved one. Or yourself of course. The Gift Set comes with a 50ML Desigual Fun Fragrance and a Vanity Pouch. Giveaway open to UK entrants only.
Have you put any of these perfumes from my Christmas Gift Guide on your Christmas List this year? I would love to know your favourites.
Until next time,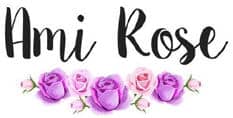 Be sure to follow me on social media to keep up to date with my latest posts!
You can find all of my social media links in the sidebar. I am @AmiRoseBlog on everything.