I almost didn't have a Manicure Monday for you today; until I realised I was yet to feature these Metallic Nails. I did this nail look a while ago after trying to come up with Autumn colour combinations. And thought this Navy and Silver Metallic was perfect. These are both BarryM polishes. Long term Ami Rose readers; would you expect anything different? The Navy could can be found here and similar to the Silver here.

I've started using my Nail HQ polishes again so used the Growth as a base coat. I then added two coats of the colours. Both the Navy and Silver covered well. I always find foil colours cover well but they show any damage on the nail so make sure you've conditioned nails properly before applying. I use Boots No7 Nail and Cuticle Cream and Body Shop Cranberry Joy hand cream to keep my nails in tip top condition.
Then I used the Nail HQ Strengthener as a top coat to protect my nails and the colour. I know I go on and on about the formula of BarryM polishes but I just love them. They are such good value for money, they stay on my nails for at least a week with out chipping. And the finished look is stunning, always. Just look at the shine on these.
Excuse how uneven my nails are at the moment. I couldn't bring myself to file my long nails down to the same length as the others. But looking at the pictures, I probably should have, they look ridiculous.
Have you tried any of these colours? What do you think of these Autumn Metallic Nails?
Until next time,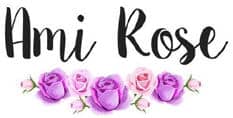 Be sure to follow me on social media to keep up to date with my latest posts!
You can find all of my social media links in the sidebar. I am @AmiRoseBlog on everything.