Whether it's a luxury biscuit selection, chocolates, cupcakes or personalised biscuit cards, Biscuiteers have your answer when it comes to alternative Mother's Day gifts. Each and every product handmade, and hand-iced at the Biscuiteers London Boutique. So why send flowers this Mother's Day, when you can send biscuits?
I'm all for finding alternative gifts for every occasion. Each occasion is centred around a certain gift, roses for Valentine's Day, chocolate for Easter, flowers for Mother's Day – I know it's tradition but it's nice to step out of the boundaries every now and again. And Biscuiteers have the perfect solution – biscuits of course.

Pictured is their Mother's Day Bouquet Biscuit Tin, one of my favourites from their Mother's Day selection. This Family Tin contains 16 vanilla biscuits inspired by flowers including Anemones and Daisies and arrive in a hand illustrated tin to match. I'm definitely going to keep refilling my tin, it's too beautiful not to keep on display. Some of my other favourite products are the Flower Cupcakes and the Little Box Flower Chocs. If you'd like to make your gift a little more personal, Biscuiteers are excellent at that too. From chocolates spelling out your Mum's name to your own personal message beautifully iced into a flower from the Mother's Day Flowers Biscuit Tin.
But what gets more personal than a trip to the Biscuteers Boutique itself? Biscuiteers also offer a London Afternoon Tea Gift Certificate which includes a selection of Iconic Biscuiteers Biscuits, traditional British sandwiches, scones with jam and clotted cream, cakes such as Victoria sponge, salted caramel brownies and macarons and of course a good ol' pot of English Breakfast Tea. So when you're trying to think of something different to buy Mum for Mother's Day, or any occasion for that matter, don't forget to head over to Biscuiteers and swoon over their collections.
Do you have any ideas for Alternative Mother's Day Gifts? Which Biscuiteers collection is your favourite?
Until next time,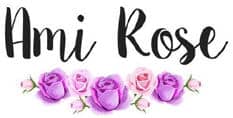 Be sure to follow me on social media to keep up to date with my latest posts!
You can find all of my social media links in the sidebar. I am @AmiRoseBlog on everything.