The February Degustabox doesn't have a particular theme, looking at it, there's a bit of everything in this month's box. From healthy Coldpress Juices and Willy Chase's 'FITCORN'  to bags of Cheese Cake and Candy Crush Gummies. There's even a full size bottle of Blossom Hill wine in this month's box.



I always feel like I'm repeating myself but I forget that most of you are new readers. The Degustabox is a Monthly Food Subscription Box. It's filled with 10-15 food/drink items and costs just £12.99 per month. Or you can get a massive £7.00 off your box by using my discount code UFDHB. Meaning your box will be just £5.99. If you want to look at the content in some of the other boxes before you consider subscribing, search 'Degustabox' in my search bar. I have month's and month's of reviews on here.
This month's wasn't one of my favourite boxes but it was still filled with many items I can't wait to try. Like the Kabuto Rice Noodles that I'm going to have for my lunch today. These are made using a combination of Asian flavours with no additives and preservatives. I've also been 'snacking' on the Peppersmith Dental Mints throughout the day, these are Sugar Free but made with Xylitol instead of the dreaded Aspartame. These along with the Peppersmith Dental Gum also included are ideal to keep at your desk.
Some of the products that jumped out at me most were the Maui and Sons Dark Chocolate Coated Banana Chips and the Coldpress Juices. Although I'm not sure what I'm going to think of the Berry Beets flavour I received as I'm not too keen on beetroot… I also can't wait to try the Willy Chase's FITCORN mentioned above, I received the Apple Cider Vinegar flavour.
I'm certain I'm going to hate the Dark Chocolate Coated Americanos but my Mother has expressed her love for these – I'll report back to you when she's tried them. I still can't stand coffee, despite being told my taste-buds will change as I get older. We'll see.
The little tins of Heinz No Added Sugar Beans will come in handy for work lunches. I'll have to remember to bring a slice of bread of toast or a potato to bake to accompany them. They're the perfect size for a single portion but I never buy them as the little cans are usually more expensive than the big ones. Work that one out?
The last few things included are the Bebeto Gummies in Cheese Cake and Candy Crush, I cannot wait to try these, but I may have to wait until Easter as I'm 'making healthy decisions' for lent. And sitting at my desk eating gummy sweets probably isn't a healthy decision. Lastly is a bar from Diablo (previously mentioned here) and a Koko Dairy Free 'milk'. Degustabox have included a 'Pink Panther Smoothie' recipe using this so I'm going to make of point of trying that. And one product that I completely forgot to mention is the JUST BEE Honey Water. This one wasn't included on the 'recipe card' so I'm not sure if it was an extra but I'm looking forward to trying this.
Do you get the Degustabox? What are your favourite products in this month's box? What did you think of the Coldpress Juices?
Until next time,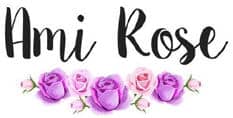 Be sure to follow me on social media to keep up to date with my latest posts!
You can find all of my social media links in the sidebar. I am @AmiRoseBlog on everything.