BarryM have released new colours to the BarryM Speedy Quick Dry Range and my gosh are they gorgeous. I love the Speedy Quick Dry Range anyway, purely for the ease of not having to wait hours for your nails to dry; but when there's colours this gorgeous, how could you resist? I think Supersonic is the only metallic in the BarryM Speedy Quick Dry Range at the moment so here's to hoping they release even more.

I've vowed to start using a base and top coat each and every time I paint my nails. I'm sure I mentioned in last week's Manicure Monday that my nails were in an awful condition. I used my Nail HQ Growth as both a base and top coat for this look, the drying time of this one is minimal also. I waited around 5 minutes for the base coat to dry before painting on two coats of Supersonic then finishing with a further coat of the Nail HQ Growth.
Seriously though, how amazing is the colour? The fact it drys in no time at all is a bonus, I would have bought it anyway. Well actually, it was a gift from my Mother after an impromptu shopping trip (thank you, I know you're reading this). I really want to start building up my BarryM Speedy Quick Dry collection. I'm eyeing up Slip Stream and Dead Heat for Autumn. These are perfect polishes to have if like me, you hate waiting for nails to dry. These require no time at all.
Have you tried any polishes from the BarryM Speedy Quick Dry Range? Which colours are your favourites?
Until next time,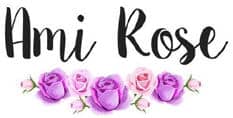 Be sure to follow me on social media to keep up to date with my latest posts!
You can find all of my social media links in the sidebar. I am @AmiRoseBlog on everything.