Bake Box is a dream come true for all enthusiastic and beginner bakers . I was eagerly awaiting on the postman for this one. Bake Box is a baking subscription box which arrives bimonthly and costs just £14.99 per box packed with bakeware worth over £40. You can also get the boxes even cheaper if you subscribe for 6 or 12 months. Each box comes with 6-8 bespoke baking items and 6 recipe cards telling you exactly how to use them.



This is their Spots and Stripes box but their current box, themed 'Flower Power' and contains a fabulous selection of summer themed/floral products, I think the flower cutters are my favourites. You can order this one right here. I'm going to have a go at making some of the recipes but I wanted to share the Bake Box with you first. The Spots and Stripes Bake Box came with everything you see above, I think that's amazing for £15.00, I was so excited opening it all.
I'm going to use the Beko Swiss Roll Mat and have a go at making the Polka Dot Swiss Roll over the weekend. A Swiss Roll has been on my long list of 'things to bake' for a while now so I'm looking forward to finally making one. The Bake Box also came with a Decorative Swirly Silicone Bundt Mould which is so different to any bakeware the a currently own, Sam mentioned that this one would be fab for jelly too.
Another recipe I'm going to try is the 'Fashionista Biscuits' using the Stripy and Spotty Stencils and Round Plunge Cutters, I love how these look on the recipe card so I'm hoping mine turn out the same. The Stripy and Spotty Stencils would also come in handy for this recipe.
The last things that the Bake Box included was a Plain Icing Nozzle, Coulper and Piping Bag and a Sugarcraft Wheel Cutter which I'm looking forward to using in future baking. Piping Bags always come in handy as I'm forever breaking mine and losing the nozzles.
Have you tried Bake Box before? What is your go-to bakeware?
Until next time,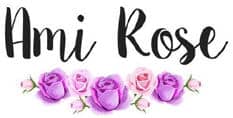 Be sure to follow me on social media to keep up to date with my latest posts!
You can find all of my social media links in the sidebar. I am @AmiRoseBlog on everything.