Avon have recently released their Mark. Beauty range. And oh my am I loving it already. The Mark. Beauty range consists of make-up products such as Mascara, Brow Pencils and the new Mark. Epic Lipsticks along with make-up tools. As well as Nail ranges such as the Mark. Gel Shine and the Mineral Crush range which contains the Avon Mark Rose Quartz that I'll be featuring today.


I absolutely love this colour. It's so "me" and reminds me of Avon Magic Effects Amethyst that I was wearing when my fiance proposed. It's just a little more "rosy". Hence the name of course. The Mineral Crush range consists of 5 colours – Ruby, Rose Quartz (featured), Agate, Diamond and Pearl. I can't wait to try some of the other colours, especially Agate.
The texture is almost identical to the Magic Effects range so if you loved that one, you're going to love this one too. It's one of those ranges that cover all the lumps and bumps on your nails. My nails are quite dry and cracked at the moment due to the house renovation but this polish just hides everything.  I've added my favourite Orly Tough Cookie just to make this even longer wearing than it is already but any Top Coat will make such a difference. The Mark. Gel Shine Top Coat is reduced to just £3 at the moment.
How much do you love this colour? Avon Mark Rose Quartz is usually £6 but the entire Mineral Crush range is half price at the moment making it just £3. An absolute steal. As well as the Mineral Crush range, the Gel Shine range is also half price along with many of the Mark. make-up products. You can buy Avon online of through your local Avon representative.
Have you tried the Avon Mark Rose Quartz or any of the other colours yet?
Until next time,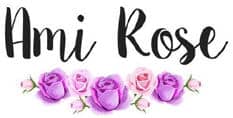 Be sure to follow me on social media to keep up to date with my latest posts!
You can find all of my social media links in the sidebar. I am @AmiRoseBlog on everything.