Can you tell I'm loving Avon at the moment? I did a mini haul of their nail polishes recently so I'm just getting around to trying them all out. Nail polishes take so long to trial as I wear them all for at least a week. All the Avon polishes I fall in love with seem to be part of their Magic Effects range. The formula is perfect and the Avon Magic Effects Lace isn't any different.


This is Lacy Red from the Avon Magic Effects Lace Collection. I'm not sure if this exact one is still available in their catalogue as I found it in their deals one. But there's similar one's available in the Avon catalogue and they're always bringing out new colours/ranges.
I wanted to try my new OPI polish so I painted my nails with OPI A Roll In The Hague first. I was amazed with the coverage after one coat. You really could get away with just the one if you were in a rush but I always tend to go for 2-3. I wasn't happy with the plain orange so went searching through my ever growing collection to find a colour that would work with it. And make it a little more exciting.
I wasn't sure about the Avon Magic Effects Lace in Lacy Red at first, but I couldn't have been more wrong. The Lacy Red isn't very red after all. It's filled with pink, peach and orange toned colours that work really will with the OPI polish. I only used one coat and it dried nice and quick. It's also great for a protection top coat as well as a colour. I'm three days into an outdoor trade show, and there's not one chip… yet… which is impressive.
What do you think of these colours together? Have you tried any polishes from the Avon Magic Effects Lace Collection?
Until next time,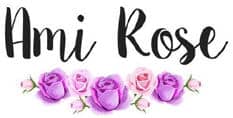 Be sure to follow me on social media to keep up to date with my latest posts!
You can find all of my social media links in the sidebar. I am @AmiRoseBlog on everything.