Here's another little bit of baking I did for my Dad's BBQ. I always think biscuits go down well at a get together with lots of people and I wanted to stick to the pink and yellow summer theme (see last week's Ice Cream Cupcakes). This Shortbread recipe is one I've been using for years and years and I've already featured the basic recipe here, although I did adapt it a little this time. I wanted to add a bit of colour to them so thought Regal Icing would be a safe, quick method.


Shortbread Ingredients:
Makes 14 biscuits
100g caster sugar
150g butter
150g flour
1tsp mixed spice or cinnamon
Icing Ingredients:
100g regal icing
Food colouring of your choice
Method:
Preparation – 20 minutes | Baking – 12 minutes
1. Preheat your oven to 180°c and line two baking trays with baking paper.
2. Using your hands, kneed together all of the shortbread ingredients until well combined and it forms a stiff dough. Add more flour if the dough becomes sticky.
3. Roll out the dough onto a lightly floured surface to around a 1/2 cm thickness. Press out as many hearts (or other shape of your choice) as you can.
4. Place your hearts on the prepared baking paper and place in the oven for 10-12 minutes. Be careful not to leave them in the oven too long as they will continue to cook once removed from the oven.
5. Leave to cool for 30 minutes before decorating.
6. You can leave your regal icing white or add food colouring of your choice. Colouring your icing can be a messy job but the end result is well worth it, fold in the colour and make sure your hands and work surface are well floured.
7. Roll out your icing and press out hearts/shapes a little smaller than your biscuit size then press these onto your biscuits. You may need to use a little water to help the icing stick.
8. I used a serrated knife to create this quilted effect.
Enjoy…
I'd love to see your photos on Twitter (@AmiRoseBlog) if you have a go at making these. Shortbread is one of my all time favourite recipes, what's yours?
Until next time,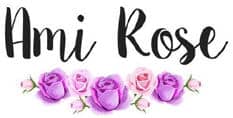 Be sure to follow me on social media to keep up to date with my latest posts!
You can find all of my social media links in the sidebar. I am @AmiRoseBlog on everything.