I know that some people hate the idea of making New Years Resolutions – and reading these sorts of posts for that matter – but I well and truly thrive from them. I'm one of these people that has to have set goals – something to work towards. Whether they're things on my to-do list that I write at the beginning of each day, monthly goals in my journal or yearly resolutions like these. I have to write them. I've decided to categorise this years' resolutions slightly – Food and Fitness, Lifestyle and Business/Blog Resolutions.

Food and Fitness
Drink (at least) 2 litres of water a day – very cliché I know but it has to be done. I go through stages of being very good at drinking water but there's also days where it reaches 8pm and I realise I haven't had one glass. I'm going to be tracking my water intake daily so I'll let you know how I get on.
Go to the gym/workout (at least) 3 times a week – again, I go through stages of going 5 days in a row and then I'll forget about the gym for a week. I want to start swimming more because I really enjoy it, especially now I can track my workouts with my new Fitbit Versa.
Do yoga every day – whether that's a 5 minute morning session or a 45 minute deep stretch session I want to make time for yoga every single day. I feel so much better when I'm doing yoga regularly, I have more energy, I sleep better and I'm much more flexible. I want to make it one of my goals to be able to put my hands flat on the floor when reaching for my toes (I can't even touch my toes whatsoever at this point).
Lifestyle
Bake (at least) once a week – I definitely couldn't get away with adding this to my Food and Fitness Resolutions. Baking is my therapy but I never make time for it any more. I used to be baking multiple times a week. Look out for all the delicious recipes on the blog.
Finish renovating the house and make it a home – if you've been reading Ami Rose for a while you'll know that we've been renovating a house over the last year. It's very nearly there in terms of renovation – just the bathroom and garden to go – but I feel it needs a lot in the way of making it a home. From shelving, to pictures, cushions, candles etc – the little finishing touches. I'll post some room transformations on here as we go.
Visit somewhere new every single week – I want to make an effort to explore more of the UK this year and make the most of the beautiful country we live in. Whether we visit a new Cotswold village 30 minutes down the road or make a weekend of it "up north" I'm just excited for the adventures to come. I'm considering writing a "New Place This Week" blog post – is that something you'd be interested in reading?
Business/Blog
Write on Ami Rose (at least) 2 times per week – I really want to get back into blogging again. I've let work, the house renovation, life, (add other excuse here) take over but I want to make time to blog and fall in love with it all over again. It used to be what I was excited to come home to but I ended up putting so much pressure on myself and falling out of love with it. I've spent a lot of time planning content and scheduling posts and I have a little relaunch/update coming later this month which I can't wait for you to see.
Reach 10,000 on Instagram – big goal I know but I've been loving my new Food and Fitness Instagram (@crunchesforpizza) and I really want to make it something – whatever something may be. I've reached the follower number my old Instagram took 4 years to reach in just 4 months and I'm loving the engagement and support on crunchesforpizza. It's mainly food and a little lifestyle at the moment but I'll be incorporating fitness content once I find some confidence.
Learn more about my DSLR – I mentioned this on my Twitter recently as although I've been using DSLR cameras for 8-9 years now I still feel I have a lot to learn. I want to push myself out of my comfort zone and stop relying on auto – I'd love to take some starry night sky photos when camping in the middle of nowhere one time.
What are your New Years Resolutions? I would love to hear them.
Until next time,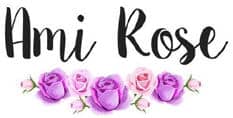 Be sure to follow me on social media to keep up to date with my latest posts!
You can find all of my social media links in the sidebar. I am @AmiRoseBlog on everything.